How to Use OSToto Hotspot (former name: 160WiFi)
OSToto Hotspot (formerly named 160WiFi) is a free Wi-Fi hotspot creator, which can instantly turn your laptop, desktop PC or notebook computer into a Wi-Fi hotspot. Thus you can free share your computer Internet connection with anyone nearby on all Wi-Fi-enabled devices, like iPhone, iPad, Samsung Galaxy, LG phones, HTC phones, Sony phones, laptop, notebook, etc.
It's very easy to use OSToto Hotspot to create a free Wi-Fi hotspot on Windows 10, Windows 8.1, Windows 8, Windows 7, Windows XP and Windows Vista.
---
Part 1. Create a Free Wi-Fi Hotspot to Share Internet Connection
OSToto Hotspot can turn your laptop, notebook or desktop (with a working wireless adapter) into a Wi-Fi hotspot in seconds. Download and install it on your computer.
Free Download
Build A Wi-Fi Hotspot on Your Laptop/Notebook Computer
A laptop or notebook computer has the built-in wireless cards or adapters, which enables Wi-Fi easily. You just need to launch OSToto Hotspot, and it will start a Wi-Fi hotspot automatically.
You can modify or edit the Wi-Fi name (also called SSID) and password from the top of the interface. Any Wi-Fi-enabled devices nearby can easily join the Wi-Fi with the name and password.
Note: OSToto Hotspot has the WPA2 for password protection to keep freeloaders out.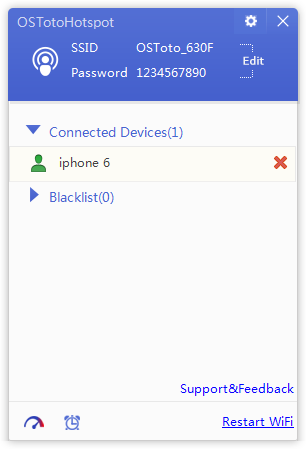 Create A Wi-Fi Hotspot on Your Desktop PC
Unlike a laptop or notebook, a desktop PC won't have the built-in wireless adapter. Therefore, you need to install a wireless adapter (such as a USB wireless LAN card). OSToto Hotspot will reply with the "Can't find the wireless adapter" window if there is no wireless adapter on your computer.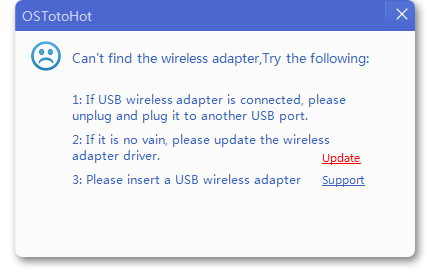 After you install the wireless adapter, run OSToto Hotspot and it will install a correct wireless card driver for it, as well as create the Wi-Fi hotspot.
Note: Computer can't detect the wireless card you plug in? Try DriveTheLife to install the driver for the wireless card you connect to desktop. Then run OSToto Hotspot to create a free Wi-Fi hospot point access.
Part 2. More Managements: Backlist, Test Speed, Timing shutdown, etc.
OSToto Hotspot allows you to customize the Wi-Fi hotspot and do more managements with great features.
Blacklist Connected Devices
Click on the red cross on the connected device and you can backlist it. This will disable Wi-Fi access of the connected device. You can remove it from the blacklist at any time.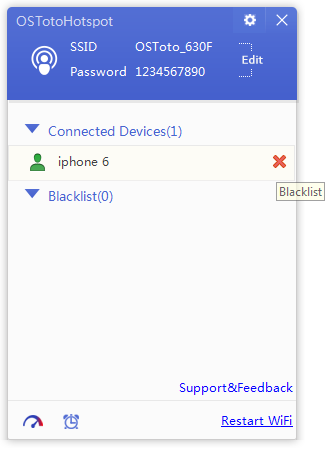 Measure Network Speed
You can use OSToto Hotspot to check out the network speed, so that you can have a good knowledge of your network and know how to allocate it.
Click on the dial with a pointer in the left bottom of the interface, which is tagged with "Measure network speed". A pop-up window will show you the details about your network speed.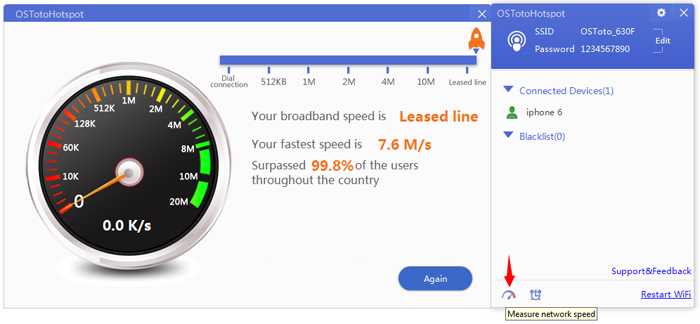 Timing Shutdown
You can use the shutdown timer utility in this tool to timing your computer's shutdown. This is more convenient and efficient than manual command.
Click on the clock symbol in the left bottom of the interface, which is tagged with "Timing Turn off". A window will pop up to allow you to timing the shutdown. You can cancel it anytime.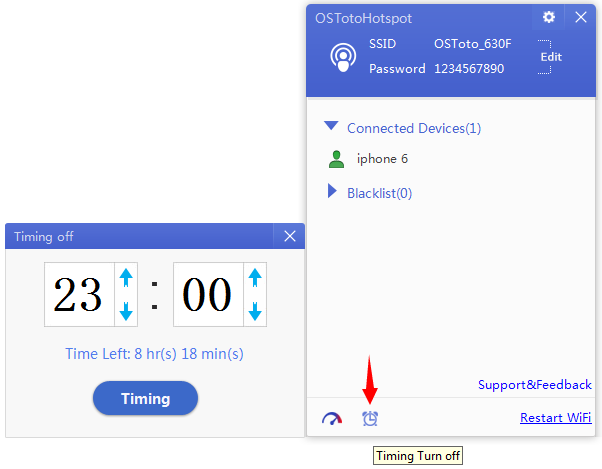 Restart Wi-Fi
If you think there is something wrong, such as your device can't connect to the Wi-Fi hotspot, restart the Wi-Fi just by clicking on the "Restart WiFi" in the right bottom of the interface.
Adjust Settings
Click on the Settings symbol in the upper right corner of the interfece, and you can manage all the settigs and features, including turn on Wi-Fi automatically, hibernate the computer, switch to speed mode or normal mode, etc.
Note: Speed mode and Normal mode are 2 different Wi-Fi hotspot sharing mode.
Speed mode: This mode is the default wireless sharing mode (with NAT protocols) on OSToto Hostpot.
Normal mode: If you have tried to turn on Wi-Fi hotspot on OSToto Hostpot but fail, go to the Settings to switch to this Normal mode (with SSID and also the same regular mode you manually set up with commands).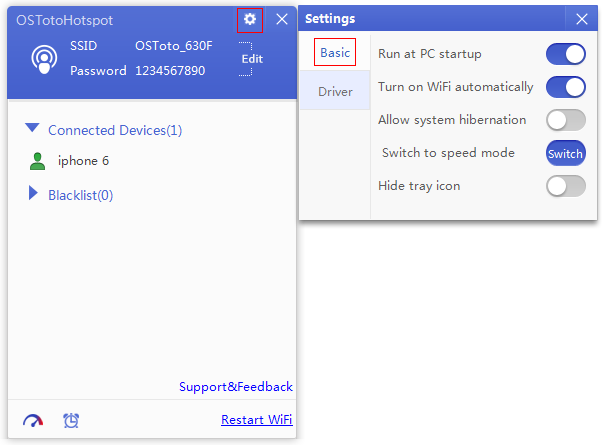 Update Wireless Driver
OSToto Hotspot also allows you to update driver for your wireless adapter. You can update to the latest driver or update to the recommended one that this tool find best-matched for you.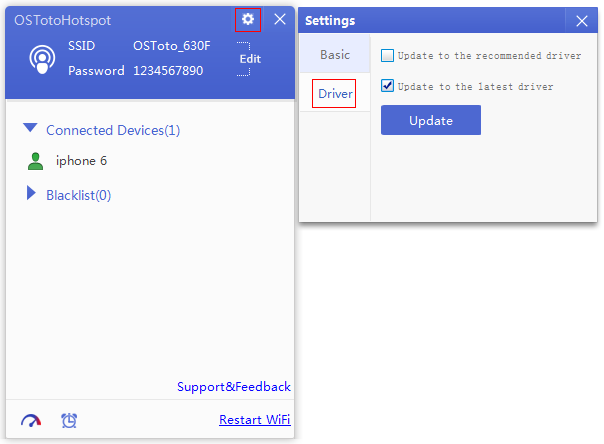 Every time you run OSToto Hotspot, it will come with a floating window (suspension), which is a quick entrance for you to manage your Wi-Fi hotspot. You can hide it as you like (right click on the windows).