"How to make my Samsung laptop as a WiFi hotspot so that I can use the internet connection in my tablet and mobile phone?"
"Can I use Samsung WiFi hotspot app to turn my Samsung PC into WiFi hotspot or WiFi router to share internet connection?"
If you have such questions about Samsung computer to hotspot conversion, it makes sense. Nowadays not all places offer public WiFi hotspots and allow wireless internet access for free. There are WiFi dead zones in your house, working office, classroom, dormitory, etc. and hotels would charge you for more than one device to access the internet. Use your Samsung laptop, notebook or desktop computer as a free WiFi hotspot, and it will help to share internet connection with multiple WiFi enabled devices, like iPhone, iPad, Android mobile phones, tablets, laptops, etc.
Be sure that your Samsung computer has internet connection and a working wireless network adapter in order to turn your Samsung PC into WiFi hotspot. Almost all Samsung laptops and notebooks have a wireless network adapter built-in, and parts of Samsung laptops come with one already installed. You can go to the Device Manager to check if your computer has already had a wireless network adapter, and if it is working properly. Fix the wireless network driver if there is any problem, like the wireless network adapter is not recognized by your computer or you fail to convert your Samsung computer into a WiFi hotspot or wireless router.
There are several methods to set up the WiFi hotspot on your Samsung computer and use it as a virtual WiFi hotspot to share internet connection. Windows OS requires manual command prompts, especially in Windows 8, Windows 8.1 and Windows 10. This is kind of difficulty for many users. Meanwhile, in some cases, you won't have internet access although you've set up the WiFi hotspot with commands.
However, it's much easier to transform your Samsung PC to a WiFi hotspot with a computer WiFi hotspot creator app. Many of you may prefer a Samsung laptop to hotspot converter, or Samsung computer to hotspot conversion, because such tools can instantly make your Samsung computer a hotspot with just one click --- no laborious commands, no risk of failure and most importantly, with strongest signals. If you want to take one, try OSToto Hotspot (formerly called 160WiFi). It's the cheapest WiFi hotspot app because it's totally free for all features, and it works really well.
Free Download and install OSToto Hotspot on your Samsung laptop, notebook, or desktop PC. It works on all Windows OS, including Windows 10, Windows 8.1, Windows 8, Windows 7, Window XP and Windows Vista.
One-click Make Your Samsung Laptop/Desktop PC a Free WiFi Hotspot for Windows 10/8.1/8/7/XP/Vista
OSToto Hotspot will instantly turn your computer into a free WiFi hotspot to share internet connection with your Samsung Galaxy, iPhone, tablet, or other WiFi enabled devices.
After you install this software on your computer, one click to launch it. It will start a WiFi hotspot for your Samsung computer.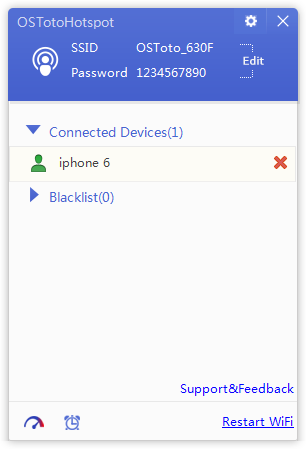 Now any devices can join the sharing WiFi access point.
Easy, isn't it? You can edit the WiFi hotspot name (SSID name) and the password. OSToto hotspot has the standard WPA2 for password protection to keep freeloaders out. Anyone who has the password can easily join your wireless network, but you can blacklist it as you like.
Can All Samsung Computers Be Made into WiFi Hotspots or Wireless Router?
You may get a Samsung Ativ One 7, a Samsung Luminous Titan, a Samsung Chromebook laptop…… you can name one. No matter what Samsung PC you've have, you can turn it into a free WiFi hotspot or wireless router with OSToto Hotspot. Below are parts of the hottest Samsung laptops, notebooks, and desktop computers.
| | | |
| --- | --- | --- |
| Samsung Ativ One 7 | Samsung Luminous Titan | Samsung Chromebook |
| Samsung Ativ Book 9 Plus | Samsung Ativ Book 9 | Samsung XE303C12-A01 Chromebook |
| Samsung - Geek Squad Certified Refurbished Galaxy Tab | Samsung – Exynos Chromebook | Samsung Silver RBXE303XC12-A01U |
| Samsung 9 NP900X3E-A02US Ultrabook PC | Samsung Series 3 | Samsung Series 5 |
| Samsung NP940X3G-S01US | Samsung - Magic Station Desktop Computer | And more |
RECOMMENDED DOWNLOAD