It is very easy to make a Lenovo WiFi hotspot on your ThinkPad X1 carbon laptop a and rebroadcast its Internet connection over WiFi to serve your iPhone, iPad, Android phone or other laptops, because this notebook ships with Intel Centrino Advanced-N 6205 dual band WiFi 802.11a/b/g/n with vPro. Also, the first official ThinkPad Ultrabook runs the latest Windows OS, namely Windows 10, which makes the process of creating a Free WiFi hotspot trivial.
If you are working in a big house or office, where the Wi-Fi may have dead zones, or if you have only one Ethernet, then you can apply the following simple methods to create a Lenovo Wi-Fi hotspot so that you can extend your home network and share your other wireless-enabled devices with the seamless Internet connection.
How to Make Your Lenovo WiFi Hotspot on ThinkPad X1
Before we begin, you need to make sure the wireless adapter on the Lenovo ThinkPad X1 notebook is working properly. Make sure the computer could be connected up by Ethernet cable to a modem or via Wi-Fi. If you fail to access to the network connection, you can click here to download the best-match Lenovo drivers for the adapter.
Now let's see how to set up a free WiFi hotspot on the Lenovo X1 computer:
Method 1. Use Windows Settings to Create a Lenovo WiFi Hotspot on ThinkPad X1 Laptop
Windows 10 comes with a handy tool for Lenovo X1 users to make the notebook a virtual router, and you can enable it with a similar operation like what you do on an Android phone or an iPhone.
Step 1. Use Windows shortcut keys Win + I to launch the Windows Settings on your Lenovo ThinkPad X1 computer. Select the Network & Internet icon and switch to the setting page.
Step 2. Scroll down and select the Mobile hotspot from the left column. You'll see the settings on the right side. Turn on the Share my Internet connection with other devices to enable the WiFi sharing feature on Lenovo X1.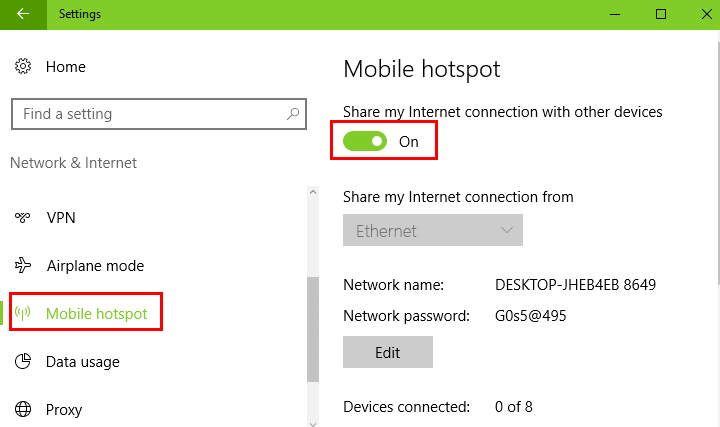 Step 3. It defaults the WiFi name and the password randomly. But you can edit and replace them with easy ones to remember. Click the Edit button for the Edit network info. Enter your Network name and Network password as you prefer and then click Save to apply the changes.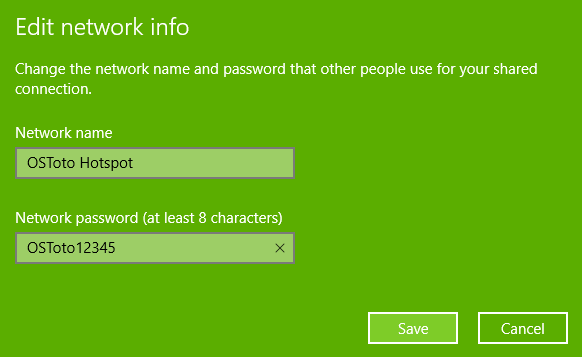 Step 4. Open the WiFi settings on your wireless-enabled device and look for the name of the network you've created, and then enter the password. The device is online.
It is a pretty method to create a virtual router on your Lenovo ThinkPad X1 carbon. However, there are many pesky steps for it. If you prefer an efficient way, go to Method 2 below.
Method 2. Make Lenovo WiFi Hotspot on ThinkPad X1 with OSToto Hotspot
You can always enable WiFi connection via the Settings, but if you are looking for a one-click solution to make your Lenovo ThinkPad X1 carbon a free WiFi hotspot, you may want to check out OSToto Hotspot. It enables you turning your Lenovo X1 laptop into a virtual Wi-Fi hotspot with just one click and share the stable and strong network connection with your smartphone, tablet, notebook or any other wireless-enabled devices.
Click the button above to get this WiFi hotspot creator directly.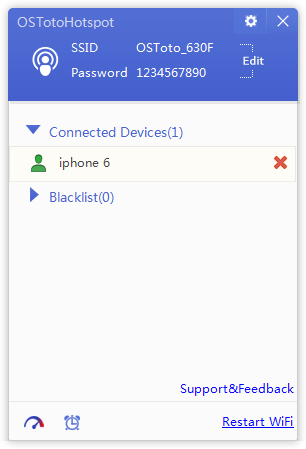 Once installed, OSToto Hotspot will create a WiFi hotspot automatically with a random SSID name and password. You can edit the name and the password and replace with the ones your like and share them with your friends, relatives or devices like iPhone, Windows phone, Kindle, WiFi printer, etc. OSToto Hotspot follows the WPA2 standard and it can protect your Wireless network from the WiFi squatters. If you find others connect to your WiFi sharing without your allowance, you can blacklist them on the creator.
Besides the Lenovo ThinkPad X1, it also supports other Lenovo models that ship with wireless network features, such as Lenovo ThinkPad X220, Lenovo Yoga 900 series, Lenovo IdeaPad 100s and more. It is available on other computer brands like Acer, Asus, Dell, HP, MSI, etc.
If you encounter making Lenovo WiFi hotspot on your ThinkPad X1 notebook or other laptops, don't hesitate to reach the comment section below, and tell us.
RECOMMENDED DOWNLOAD