Alienware is a subsidiary of Dell and is one of the most popular PC brands around the world. Similar to MSI computer, an Alienware laptop or desktop is designed for gaming purposes. Usually, game players with MSI or Alienware computer require a strong and stable network that make sure a good gaming experience. But if there are only one Ethernet connection and you fail to find any WiFi router, in this case, you can make your Alienware laptop or desktop a WiFi hotspot. Thus your other WiFi-enabled devices like iPhone, Kindle, Android phone, wireless printer, etc. can connect to the network sharing.
Is there any way to create a wireless hotspot on the Alienware computer? Today, let's have a close look at this tutorial of how to make Alienware laptop/desktop a free WiFi router.
How to Make Alienware Computer a Free WiFi Hotspot
To set up a seamless Internet connection, you can follow the top two ways below to make it. But before you get started, you need to check if the network adapter on your Alienware supports this feature. Go to the Device Manager to do the check. If there are problems with the wireless adapter driver, click here for solutions.
Way 1. Use Command Lines to Create a WiFi Hotspot on Alienware
Windows can turn your Alienware gaming book or desktop into a hotspot and it depends on the version of the Windows OS. Here's how it all works.
Step 1. In this step, you need to check if your Alienware laptop/desktop supports hosted network. Use Windows shortcut keys Win + X and select Command Prompt (Admin). Then type "netsh wlan show drivers" (without the quotation marks, below) into the box and hit the Enter. When you receive "Hosted network supported: Yes" from the screen, you can move on.

Step 2. Enter the command line "netsh wlan set hostednetwork mode=allow ssid=network_name key=network_password" and press the key Enter. (Note: The SSID is your WiFi name, and the KEY is the WiFi password, which should be at least eight strings in length.)

Thus you will create a wireless hotspot on your Alien. But you need type into the following command to activate the network:
"netsh wlan start hostednetwork"
Press Enter. If you see "The hosted network started", that means you've successfully turn your Alienware laptop/desktop into a WiFi hotspot.
Step 3. Open the Network and Sharing Centre or Network Connections and find your currently working network adapter (Ethernet or WiFi). Then right click on the adapter and select Properties. Choose the Sharing tab. Enable Allow other network users to connect through this computer's Internet connection. Under the Home networking connection, select the Local Area Connection* number. Click OK.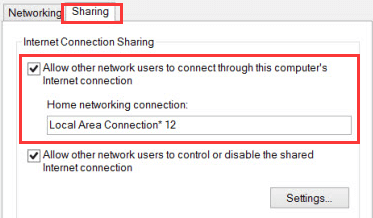 When you complete the steps above, you can enable the WiFi feature on your iPhone, iPad, Android phone, tablet or other wireless-enabled devices, and connect to the hotspot you share on the Alienware PC.
Way 2. Make Alienware Laptop/Desktop a WiFi Hotspot via OSToto Hotspot
To prevent the dead WiFi from spoiling the experience of keeping in touch with the whole world, you can also use a one-click solution to make your Alienware laptop or desktop a WiFi router. OSToto Hotspot is such a stable and powerful wireless hotspot creator. It can help you create a WiFi hotspot instantly on your Alienware 13, Alienware 15, Alienware 17, Alienware Aurora, etc. with just one click.
Click the button above to download this hotspot creator for your 64-bit or 32-bit Windows 10, Windows 8.1/8, Windows 7, Windows Vista or Windows XP Alienware computer.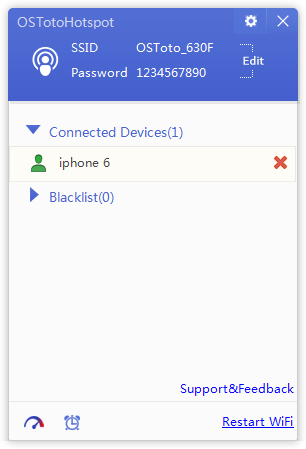 After you launch OSToto Hotspot, it will create a WiFi hotspot for your Alienware computer directly. Then you can share the Alienware WiFi to your smartphone, tablet or laptop. The hotspot creator follows the WPA2 standard, which will protect the password. You can change the WiFi/SSID name and the password and blacklist any Wi-Fi squatters as you prefer.
Turn Your Other Alienware Computers into a WiFi Router
You can use OSToto Hotspot to make any WiFi-enabled Alienware computers into a WiFi hotspot. Besides, it can also work on notebooks/desktops like MSI, HP, Toshiba, Microsoft Surface, LG, etc.
The table below shows the most popular Alienware desktops or laptops that support the Wireless network.
| | | |
| --- | --- | --- |
| Alienware 14 | Alienware 13 | Alienware 15 |
| Alienware 17 R3 | Alienware 17 R4 | Alienware ALW17-5312sLV |
| Alienware Alpha | Alienware Aurora | Alienware Area-51 |
| Dell Alienware M17X | Dell Alienware M14X | |
RECOMMENDED DOWNLOAD