Have no Wi-Fi router but want to share your laptop internet connection with others? Get a 3G or 4G dongle on your laptop but it leaves your Wi-Fi-only tablet offline? Had the wired internet access for free on a hotel but it charged you for Wi-Fi or for using the internet on more than one device? Creating your own Wi-Fi hotspot is the best solution to share wireless internet connection with any devices, and you can turn your laptop or notebook PC into a Wi-Fi hotspot for free.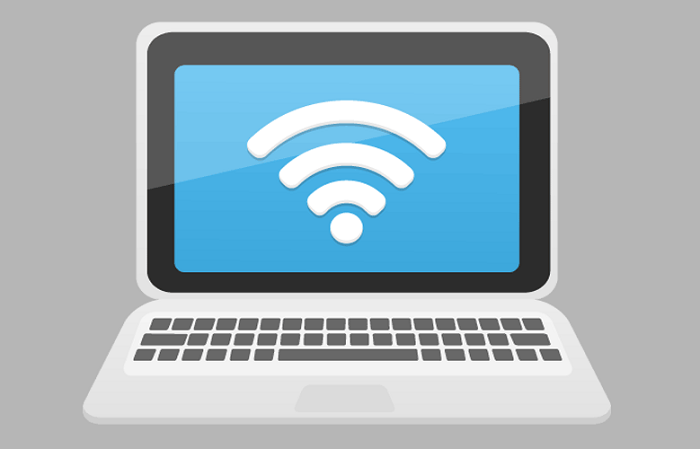 Without a wireless router, you can share your laptop, notebook or hybrid device's internet connection via Wi-Fi to other devices. It's very simple for Mac users to turn laptop into Wi-Fi hotspot on Mac, as setting up internet sharing in OS X is just a few clicks, but for Windows users, the process can be more labored. The built-in options don't always cut it due to the complicated setup and reliability problems.
In this post, you will get 2 workable methods to create a free Wi-Fi hotspot access point on laptop or notebook.
Top 2 Methods to Turn Windows 10/8.1/8/7/XP/Vista Laptop or Notebook into A Wi-Fi Hotspot
It's quite useful to turn your laptop into Wi-Fi hotspot for Android phones, iPhone, iPad, or other mobile phones. Thus these Wi-Fi enabled devices can easily join the access point and share your internet connection for free. The 2 methods both work for all brands of computers, such as Dell, Asus, Acer, HP, Sony, Samsung, Lenovo, Toshiba, IBM, Alienware, Compaq, Gateway, LG, etc.
Here is how to use laptop or notebook as a free Wi-Fi hotspot on Windows 10, Windows 8.1, Windows 8, Windows 7, Windows XP, or Windows Vista.
Top 1. Build A Free Wi-Fi Hotspot on Windows Laptop/Notebook with just One Click
A professional Wi-Fi hotspot creator will do much help to convert your PC into a Wi-Fi hotspot. You don't need to set up step by step with commands that you are not familiar or that you even don't know. Such Wi-Fi hotspot software or apps, like OSToto Hotspot, will help you to make a free and safe Wi-Fi hotspot with just one click.
Free download and install OSToto Hotspot on your laptop or notebook computer.
After you install this utility, launch it and it will automatically start a Wi-Fi hotspot. You can modify the Wi-Fi name and password. OSToto Hotspot has the WPA2 for password protection to keep freeloaders out, but your families, friends and coworkers who have the password can join your network sharing in just one second.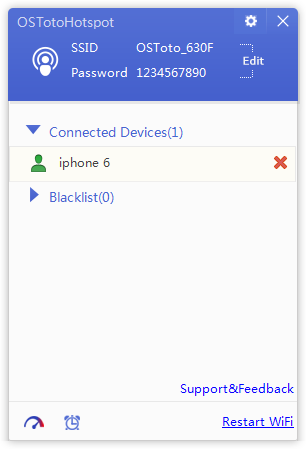 Note: Please be sure the wireless adapter is well connected to your laptop. If you have any issues with the wireless adapter card, such as it can't be detected or recognized by your computer, try to fix the wireless driver.
In other cases, your laptop might not have internet connection because of the network card driver. You can't build a Wi-Fi hotspot if you don't have internet connection on your computer. Therefore, install a new network driver offline and get the internet connection again.
Top 2. Set up Wi-Fi Hotspot on Laptop/Notebook Manually
You can transform your Windows 7, Windows 8.1/8 and Windows 10 laptop into Wi-Fi hotspot manually, but this requires some tech skills, especially for Windows 8 and up. If you prefer easier method, like one-click, try OSToto Hotspot.
To Make a Wi-Fi Hotspot on Windows 8/8.1/10 Manually
Step 1. Press the Windows + R key combination to bring up a run box. Type ncpa.cpl and hit enter.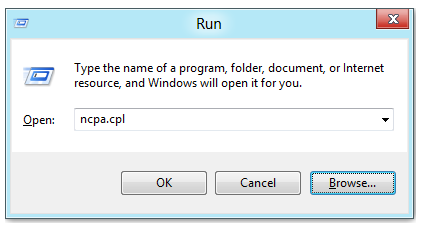 Step 2. Right-click on your wireless network adapter and select properties from the context menu.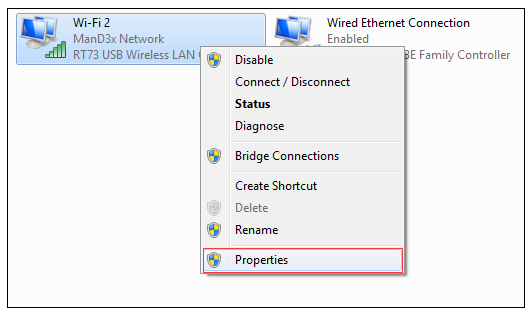 Step 3. In the Sharing tab of the pop-up window, make sure the "Allow other network users to connect through this computer's Internet connection" box is selected.
Step 4. Now right-click in the bottom left of your screen and you can launch an administrative command prompt.
Step 5. In the command editing window, enter the following command like:
netsh wlan set hostednetwork mode=allow ssid="OSToto Hotspot" key="12345678"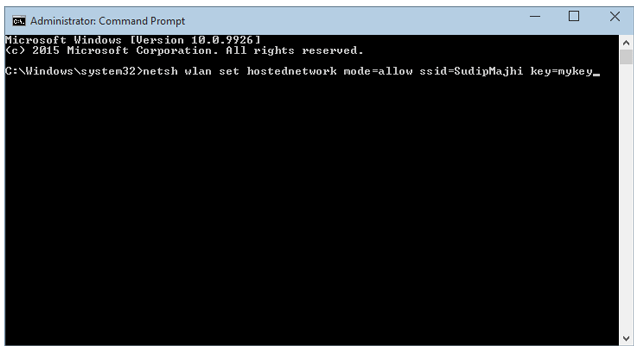 The ssid is the name of your network and the key is the password. You can freely name them like the above command. Press enter and the system will create a Wi-Fi hotspot
Step 6. You need to type the following command to start the Wi-Fi connection. This helps to tell you things like the channel you are on as well as the number of clients connected to your network.
The command you need to type is:
netsh wlan start hostednetwork
To Use Windows 7 Laptop as a Wi-Fi Hotspot Manually
Step 1. Click on the Start menu and type "wireless" into the Search box and select "Manage Wireless network".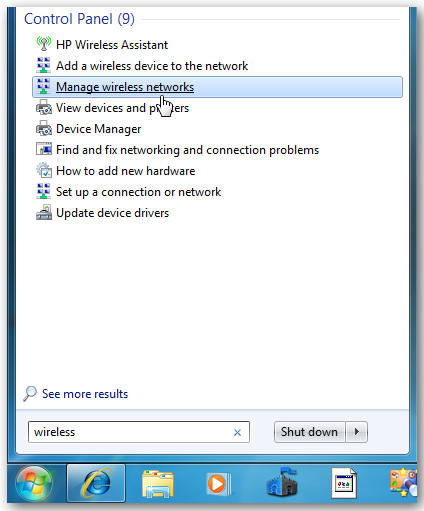 Step 2. Click on the "Add" button to add a wireless network.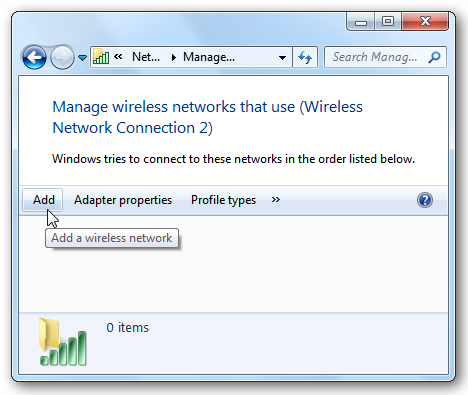 Step 3. Click on "Create an ad hoc network" and then "Next".
Step 4. Enter a name and password for the network and it'll appear in the list of wireless networks.
Be sure to activate the "Allow other network users to connect through this computer's internet connection" checkbox.
Laptops or Notebooks That You Can Turn into A Wi-Fi Router
Almost all Windows laptops and notebooks can be made into a wireless router to share internet connection, since the wireless adapter is the built-in part of hardware. Here are the hottest laptops and notebooks that you always search for solutions to create Wi-Fi hotspots and we do not cover all. Try OSToto Hotspot to turn your laptop/notebook into a free Wi-Fi router.
| | | |
| --- | --- | --- |
| Dell Inspiron A6 Series | Dell Inspiron Core i5 | Dell Inspiron 7000 Series |
| Dell i7 | Dell Inspiron Intel Core i7 | Dell Inspiron laptops |
| Dell XPS | Dell Venue 11 Pro | Dell Inspiron 15 |
| Dell Inspiron 15 5000 | Dell Inspiron 13 7000 | Dell Inspiron 11 3000 |
| Asus Zenbook | Asus Zenbook UX305 | Asus 15.6" laptop |
| Asus 11.6" touch screen laptop | Asus 2-in-1 15.6" touch screen laptop | Asus 2-in-1 15.6 touch screen laptop |
| Asus EeeBook X205TA | Asus Transformer Book T300 Chi Blurb (Full-HD 2015) | Asus Transformer Book Flip TP300 |
| Asus G751JY | Asus Flip 2-in-1 | Asus gaming laptop |
| Acer Aspire | Acer Aspire E Series | Acer TravelMate Notebook |
| Samsung ATIV Book 9 Plus Ultrabook | Samsung laptop | Lenovo G50 |
| Lenovo Yoga | Lenovo Flex 3 | Lenovo Flex 3 |
| Lenovo Edge 15 | Lenovo Y50 | Lenovo ThinkPad |
| Lenovo MIIX 3 | Lenovo H50 | HP 15-ac121dx |
| HP 15-f305dx | HP 11-D001DX | HP 13-c002dx |
| HP m7-n101dx | HP Envy | HP Pavilion |
| HP Omen | HP x2 | Toshiba Satellite |
| Toshiba Q Series | Toshiba C55-B5277 Laptop | Sony Vaio laptop |
| IBM ThinkPad T520 | IBM ThinkPad T60 | IBM ThinkPad T420 |
| IBM ThinkPad T410i | And more | |
Tip: You Can Turn Mac Laptop into A Free Wi-Fi Hotspot to Share Internet
That's very easy to make internet sharing on Mac OS X.
1. Go to System Preferences and Sharing. Check Internet Sharing on the left.

2. Select the connection you want to share from the drop-down menu next to "Share your connection from". You can share internet connections from Ethernet, Wi-Fi, Bluetooth, or even iPhone USB.

3. Click the box "Wi-Fi" under "To computers using".

4. Pick a network name, security type and enter the password.



If you've installed Windows 10 on your Mac, try OSToto Hotspot to create a free Wi-Fi hotspot on your computer to share internet connection with iPhones, iPad and other Wi-Fi enabled devices.
RECOMMENDED DOWNLOAD