Want to share your computer WiFi network with other mobile devices? Need to make WiFi hotspot available with a wireless router? With a portable WiFi router, you can easily share your internet connection with others. It's not so difficult to create a virtual WiFi router, especially on Windows 10, Windows 8.1/8, Windows 7, or Windows XP/Vista. You can make your laptop, notebook or desktop PC into a free WiFi router at home, office, class room, dormitory, outside, or at any places you like.
Note: You don't need to buy a Wireless router (3G/4G WiFi router, mobile WiFi router, USB WiFi router, Apple WiFi router, Cisco WiFi router, Micromax WiFi router, etc.) in order to share your internet access with multiple devices. This article will show you how to turn your computer into a WiFi router for free.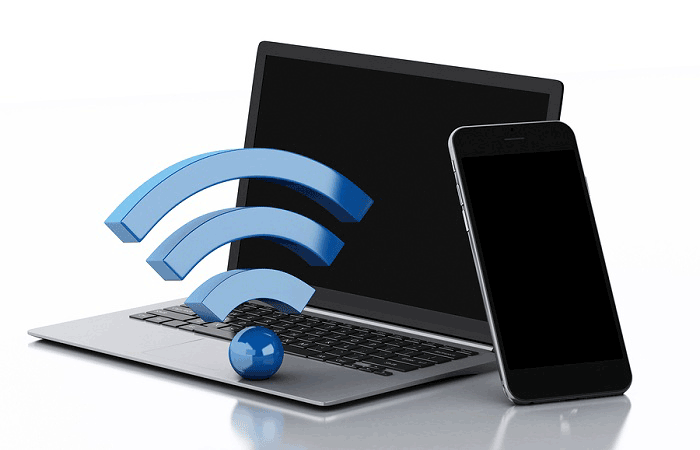 What's a Wireless Router
A wireless router is a device which performs the functions of a router and also offers the functions of a wireless access point. It helps you to share your internet connection with any other WiFi enabled devices, like a laptop, tablet, game consoles, iPhone, iPad, Samsung Galaxy or other mobile phones.
Internet routers can be wired or wireless. With the exception of 3G or 4G connections, it's not the broadband connection or package that is wireless. It's the type of router. Generally, we need to pay for getting a wireless router, and then we can set it up through many steps. Luckily, we can make a virtual WiFi router on computer, which means we can convert the computer into a WiFi router to directly offer wireless hotspot access point.
How to One Click Make Your Own WiFi Router on Windows 10/8.1/8/7/XP/Vista
It's very very very easy to make your own Wi-Fi router on a computer, like a laptop, notebook, or desktop PC of Dell, Asus, Acer, HP, Sony, Lenovo, Samsung, Toshiba, IBM, Alienware, Compaq, Gateway, LG, Microsoft, MSI, etc. OSToto Hotspot (formerly named 160WiFi), which works as a wireless router, can one-click transform your PC into a free wireless router to share wireless access point.
Free download and install OSToto Hotspot on your Windows 10, Windows 8.1, Windows 8, Windows 7, Windows XP or Windows Vista.
Make Your Laptop or Notebook into a Free WiFi Router
Laptops and notebooks have the Wi-Fi feature, since almost all of them have a wireless adapter in built. Therefore, setting up the WiFi router is quite simple.
Launch OSToto Hotspot on your computer. It will automatically turn your computer into a wireless router with a WiFi hotspot set up. Now you can share your laptop or notebook computer internet connection with other devices.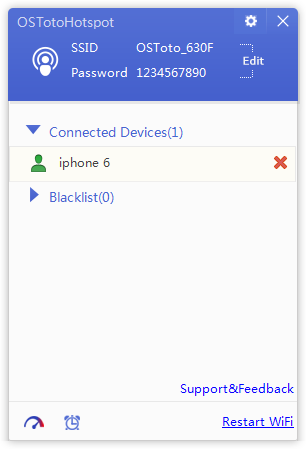 Note: the wireless adapter is not detected on your computer? The wireless driver may have been outdated, corrupted, missing, damaged or incompatible. Fix the wireless adapter driver.
Turn Your Desktop PC into a Free Wireless Router
Only parts of desktop computers come with a wireless network adapter installed. Therefore, make sure your desktop has a working wireless network adapter in order to make your desktop into a WiFi router.
To check if your desktop has a wireless network adapter, do as follows (also apply to laptops):
Go to the Device Manger (click on the Start button on your computer and type "device manager" in the search). Look at the "Network adapters" to see if there is a network adapter that includes "wireless" in the name.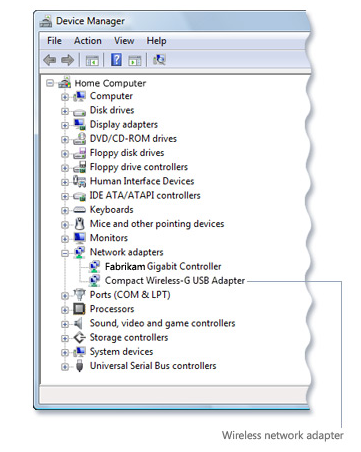 If your desktop PC doesn't have a wireless adapter, you need to buy one and install it on your computer. Make sure the wireless adapter driver is installed.
When the wireless adapter is installed and recognized by your desktop computer, it starts to work. Now launch OSToto Hotspot and it will instantly turn your desktop computer into a free WiFi router to share internet access point.
Working as a wireless transmitter or WiFi router, OSToto Hotspot enables you to wireless share internet connection (like WiFi, LAN, DSL, Cable, Bluetooth, Mobile Broadband card, Dial-Up, etc.) with others.
RECOMMENDED DOWNLOAD