Seamless Internet connection is necessary for us in our daily life. There are many occasions in which you need to connect your LG laptop or LG phone, iPhone, Kindle, etc. to a WiFi hotspot. LG has out-thinned its ultraportable with the premium laptops, LG Gram series, which enables you to create a free virtual WiFi. Thus you can connect to the WiFi-on-the-go and won't be out of touch with the world whether you're at home or traveling in airports.
If you don't want the dead WiFi network spoils the experience of such a handsome and promising LG notebook, let's get starting and see how to make your LG laptop a free WiFi hotspot.
Top 2 Ways to Make LG Laptop a Free WiFi Hotspot
Here we've had top two methods for those who own a Windows 10 LG laptop, such as LG Gram 13, LG Gram 14, LG gram 15Z960, etc., to create a free WiFi hotspot, in the pursuit of the stable and smooth Internet.
Way 1. Create a Virtual WiFi Router on Your Windows 10 LG Laptop
To turn your Windows 10 LG laptop into a WiFi hotspot, you can follow the steps below to create a virtual wireless router with the Windows Settings.
Step 1. Make sure your LG device is connected to the Internet. Use Windows shortcut keys Win + I to launch Windows Settings. Select Network & Internet.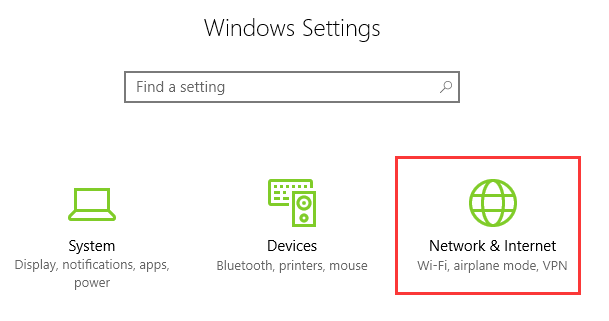 Step 2. Select the Mobile hotspot tab from the left column. On the right side, click the switch button to enable the Share my Internet connection with other devices.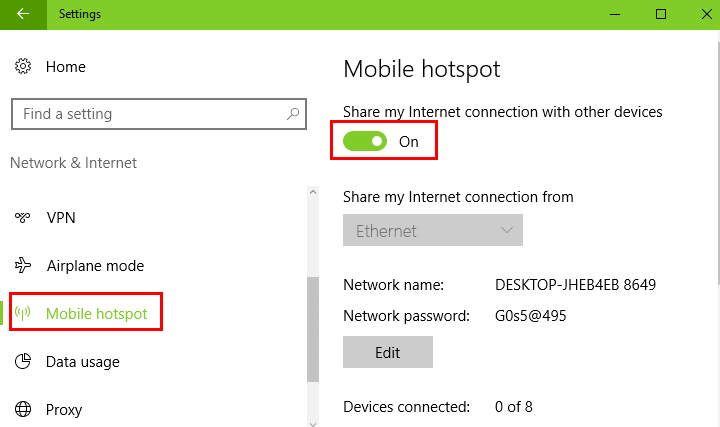 Step 3. In this step, you're going to change the network name and the password. If you don't think it is necessary, you can go to the Step 4 directly. Now click the Edit button to open the Edit network info box. Reset the Network name and the Network password (You can edit them to ones that are easily remembered). Click Save.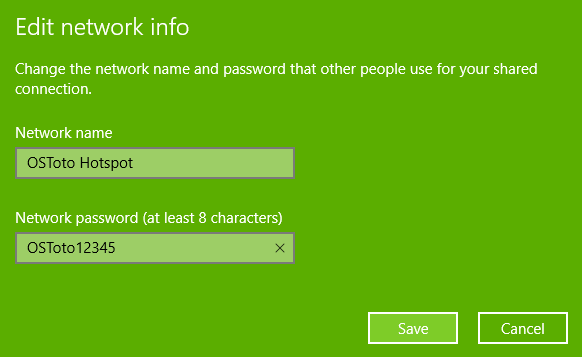 Step 4. Enable the WiFi feature on your LG notebook, LG phone, iPhone, Android tablet or other wireless-enabled devices to connect to the LG WiFi hotspot with the password.
Now you can enjoy yourself with the network sharing on your LG device.
Way 2. Make LG Laptop a Free WiFi Hotspot with OSToto Hotspot
If you are looking for a one-click solution to quickly turn your LG notebook into a free WiFi hotspot, OSToto Hotspot also makes the wireless sharing on your LG computer a cinch. OSToto Hotspot is a free and professional wireless signal creator for Windows 10, 8.1, 7, XP and other Windows OS. You can use this utility to create a stable and smooth WiFi hotspot and access the network with your Android phones, iOS devices, Kindles, etc.
Click the button and download the efficient network method for your Windows PC (64 bit or 32 bit).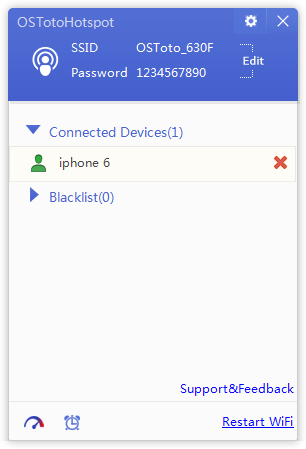 OSToto Hotspot will automatically create a free wireless hotspot with the SSID and the password just after you launch it. You don't need to fall into any settings anymore. If you find it hard to remember the network name or the password, it allows you to edit and change to the ones you prefer. Besides, OSToto Hotspot follows the Wi-Fi Protected Access 2 security technology, and it will blacklist those Wi-Fi squatters who have none of your allowance to the network.
Make Your Other LG Notebook a Wireless Router
OSToto Hotspot is compatible with all the LG computers running common Windows OS. You can make your LG laptop a free and powerful WiFi router and share the network to your smartphone, home kit, tablet, notebook and more. Moreover, it also works on other PCs, like Acer, Sony VAIO, Microsoft Surface, MSI, Toshiba laptop or desktop.
Here is a table of the most popular LG computers that support the Wireless network.
| | | |
| --- | --- | --- |
| LG gram 14 | LG Gram 15 | LG Gram 15Z960-A.AA52U1 |
| LG UltraPC 13Z940 | LG Gram 13Z970-U.AAW5U1 | LG Gram 14Z950 |
RECOMMENDED DOWNLOAD