Heading out and wondering how to find a nearest Wi-Fi hotspot for your Android mobile phone or iPhone? Travelling around the world and want a WiFi hotspot finder for Europe, Italy, UK, etc. which are in your area to get WiFi internet access point, so that you can avoid paying for international mobile data? In fact, it's easy to get a WiFi hotspot locator to help find Wi-Fi hotspots on the go, no matter if you are in your own place or travelling around the country/world.
Here are the main contents:
Part 1. What is a WiFi Hotspot
Part 2. How to Find a Free WiFi Hotspot on iPhone, iPad, iPod touch, Android Devices
Part 3. How to Get Your Own Strong Signal WiFi Hotspot on PC for Windows OS
Part 1. What is a WiFi Hotspot
A WiFi hotspot (also called wireless hotspot) is a physical location that offers Internet access over a wireless local area network (WLAN). Any Wi-Fi enabled devices, like a laptop, iPhone, iPad, or other mobile phones, can join in the Wi-Fi access point and have internet access. Typically, you can find a WiFi hotspot in coffee shops, libraries, airports, hotels, restaurants, and other public places; alternatively, you can create your own free WiFi hotspot on a computer.
To get an optimum WiFi hotspot, sometimes you can locate Verizon WiFi hotspot, AT&T WiFi hotspot, BT WiFi hotspot, Skype WiFi hotspots, free Sprint WiFi hotspot, or any other stronger signal WiFi hotspot.
Part 2. How to Find a Free WiFi Hotspot on iPhone, iPad, iPod touch, Android Devices
It's a large demand to find a free WiFi hotspot for your portable devices. There are 2 ways to get a free WiFi hotspot on iPhone, iPad, iPod touch or Android devices.
Method 1: Locate WiFi Hotspot on Your Devices without WiFi Hotspot App
You don't need to search for a public Wi-Fi hotspot just to connect your mobile phone to the internet. Nowadays, most smartphones, like iPhone, iPad, Samsung Galaxy, LG G3, or other Android mobile phones, have a built-in mobile hotspot function, which allows you to work on the go and have internet access anytime. You can create an internet connection for up to 5 mobile devices on a 3G phone and up to 10 on a 4G LTE phone. There is no need for a USB cable and you can share your phone's mobile data plan with others.
However, there are a few things to keep in mind: Be aware that any data used by a connected dev ice will be deducted from the total amount of your phone's data plan. Make sure not to disable the mobile hotspot's WiFi; if you did, anyone can connect to the hotspot without your permission and potentially access any data being transmitted.
Use Your Apple iOS Device as a WiFi Hotspot
On your iOS device, go to Settings, Cellular and tap on Set Up Personal Hotspot. Head over to Settings, choose Personal Hotpot and turn it on. Agree to WiFi and USB Only.
Your iPhone, iPad or iPod touch hotspot is now active.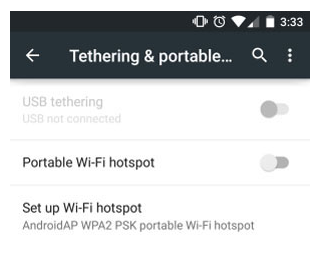 Use Your Android Device as a WiFi Hotspot
Activating hotspot on different Android devices is similar. Go to Settings, find Wireless & Networks, tap on Tethering & Portable Hotspot (or Mobile Hotspot, something like that) and then step through the instructions.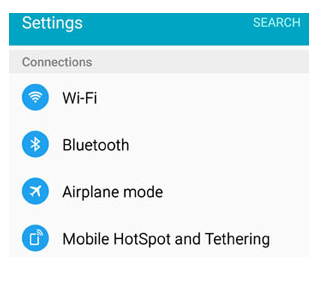 Method 2. Use a WiFi Hotspot Finder App to Find Nearest WiFi Hotspot
Not everyone has a big mobile phone data plan. To cut down data usage and to avoid overcharges, you can find a public WiFi hotspot and then join in it. WiFi hotspot finders are a good helper. They can help you quickly find the nearest WiFi hotspots and show you which ones are with stronger signal. Some are even with a WiFi hotspot finder map to direct you to locate the WiFi hotspots. Type "wifi hotspot finder" or "find wifi hotspot" on your App store or the store app from which you usually download apps, and all the WiFi hotspot apps available come out. Select one to install on your mobile devices.
Please note that no all the WiFi hotspots you find can get the internet access. Some allow you to connect to, but will charge you for internet access.
Part 3. How to Get Your Own Strong Signal WiFi Hotspot on PC for Windows OS
If your computer has internet connect, setting up a Wi-Fi hotspot and sharing your computer internet connection with multiple devices become a very easy thing. Admit it or not, this is the best way to find the strongest and also the cheapest WiFi hotspot for your iPhone, iPad, iPod touch, Android phones and other mobile devices. OSToto Hotspot (formerly name 160WiFi) can instantly turn your PC into a free WiFi hotspot to share your internet connection.
Free download and install OSToto Hotspot on your Windows computer. This free WiFi hotspot finder for PC works on all Windows OS, including Windows 10, Windows 8.1, Windows 8, Windows 7, Windows XP and Windows Vista.
Launch OSToto Hotspot after you install it. It will instantly create a free WiFi hotspot on your computer. Now use your mobile phones or other Wi-Fi enabled devices to connect to this WiFi hotspot access point.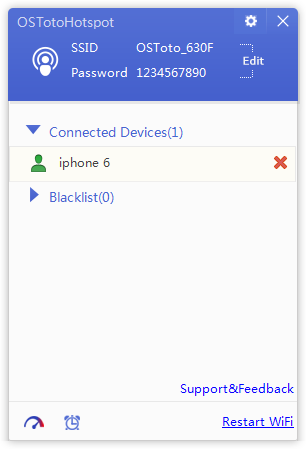 Have no internet connection on your computer? The problem may lie in the wireless adapter driver. Try to fix the wireless adapter driver issue.
Summary: every method has its own weakness, like using your smartphone as a WiFi hotspot without apps will easily overcharge your data plan, locating a free public WiFi hotspot may get you out of the internet access, and you need to have internet connection on your computer in order to build your own free WiFi hotspot to share PC internet access with other portable devices. Still, all the methods introduced above can solve your WiFi hotspot issues, especially when you are travelling. If you have any problem, leave it in your comment.
RECOMMENDED DOWNLOAD