In many cases, people want their devices such as a laptop, Android phone, iPhone or a tablet to link to Internet via WiFi without a wireless router. Indeed, as long as we have Windows 8/8.1 Asus/Dell/Hp/Acer/Lenovo/Samsung/Sony desktop, laptop or notebook computer, we can easily make WiFi Hotspot in Windows 8 with some ways.
The Fastest Way for Windows 8 PC to Create WiFi Hotspot
The process to turn Windows 8 computer into a free WiFi hotspot seems to be complicated. In fact, there is no need to worry about. A fastest and easiest way can help you achieve it. The way that is using WiFi creator program can work on all kinds of laptops, notebooks, desktops with various Windows OS and brands.

OSToto Hotspot is a professional and easy-to-use tool for Windows 8/8.1/10/7/XP/Vista PC to build personal WiFi hotspot. Although you don't know anything about computer network knowledge, you can use Windows 8 desktop, laptop and notebook as WiFi hotspot for other devices on with one click.

Here are the steps for using OSToto Hotspot to turn on WiFi hotspot in Windows 8/8.1 computer.

Step 1: Download and install OSToto Hotspot to your Windows 8 PC including Asus/Dell/Acer/HP/Lenovo/Samsung/Sony.etc
Step 2: Launch this program in your computer, and Wi-Fi hotspot will turn on automatically.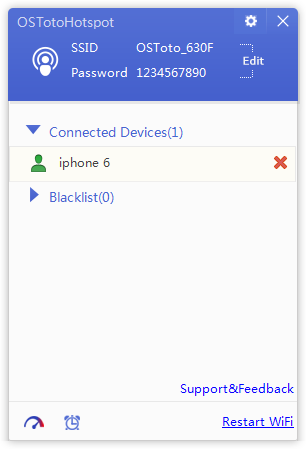 Step 3: You can change the SSID and key of the hotspot, and then search the signal with the device you want to connect to Internet.
Note: In some cases, Wi-Fi hotspot can't be turned on, you may try to fix the wireless network card driver problems firstly. And then, try again.
Turn on WiFi hotspot in Windows 8/8.1 PC without software
Generally, you also can use normal way to set up a free WiFi hotspot in Windows 8, but it seems to be not as easy as using OSToto Hotspot. Anyway, we can still have a look for this kind of way.

In Windows OS, especially, after Windows 7, user can use virtual network to build WiFi ad-hoc hotspot. Let's learn how to do it step by step.

Step 1: Go to "Network Connection", you can access it in "Control Panel".
Step 2: When you go to "Network connections", you need to right-click on your wireless network adapter and select properties from the context menu.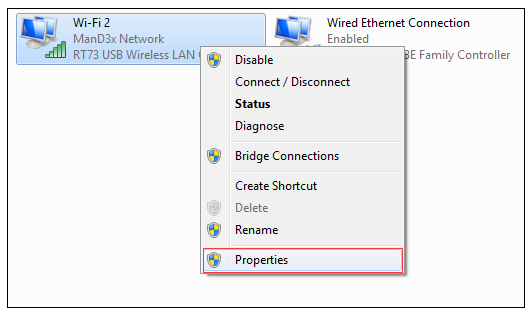 Step 3: In properties menu, you can see the Sharing tab. Just tick the "Allow other network users to connect through this computer's Internet connection" box.

Step 4: Press Win+X+A key combination to run CMD as administrator, and the type "netsh wlan set hostednetwork mode=allow ssid="OSToto Hotspot" key="12345678" (You can change ssid and key as you like)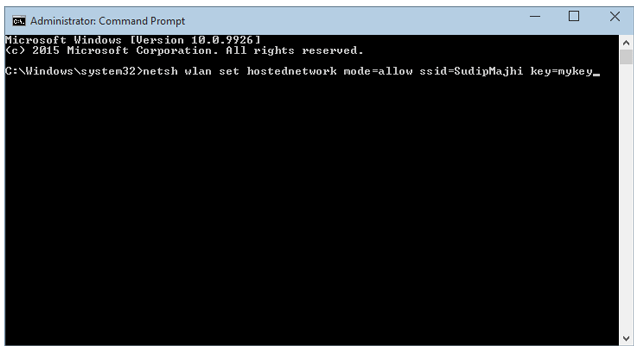 Step 5: After typing, press enter to run this commend. The system will turn your Windows 8 PC into a Wi-Fi hotspot automatically, And then, type "netsh wlan start hostednetwork", and press enter. WiFi connection will start.

Note: You need to activate the "Allow other network users to connect through this computer's internet connection" in Properties of this wireless network.

Finally, it is necessary to tell you that, not all devices can link to this WiFi hotspot that is built with ad-hoc way. Some devices can't search out this kind of signal. So, it is better for you to make your Windows 8 computer become WiFi hotspot with the first way.
Notices for Windows 8 WiFi hotspot creating
There are something important you need to pay attention to when you convert Windows 8 laptop, notebook and desktop to a Wi-Fi hotspot:

1.Before creating, you need to confirm whether your computer has wireless network feature. If your use desktop computer or laptop don't have network card, you can get a USB wireless adapter for work.

2.When you had transformed Windows8 computer to WiFi hotspot you had better give a password for it, although you just use it personally. It is safer for your privacy data.
3.It is better to limit the numbers of device that link to your Windows 8 computer WiFi hotspot, because too much sharing will slow down your internet speed.

4.Many WiFi creator programs including OSToto Hotspot have shutdown timer for computer, you can enable this feature.
RECOMMENDED DOWNLOAD