"Can I make my laptop a WiFi hotspot in Windows XP"? Yes, you can make your Windows XP laptop, notebook or desktop PC a WiFi hotspot to share internet connection for your Android mobile phones, iPhone, iPad, tablets or any other WiFi enabled devices. Although Windows XP is not supported by Microsoft any more, you can have it on your computer if you really like it and feel comfortable. Here are 3 workable methods to build a WiFi hotspot and use the Windows XP computer as a wireless hotspot access point.
Editor's Note: A computer needs a working wireless network adapter to help make a WiFi hotspot to share internet connection. Therefore, make sure your Windows XP computer has a working wireless network adapter. You can go to the Device Manager to have a check. Most laptops and parts of desktop PCs come with a wireless network adapter already installed. If your computer doesn't have one, you need to buy one and install into the computer. A USB wireless LAN card is a good choice because it's small and easy to install.
Important: Make sure the wireless network driver is working properly. You can download and install a correct wireless network driver for your wireless network adapter or card.
How to Create a WiFi Hotspot in Windows XP Laptop, Notebook or Desktop
You can create a virtual WiFi hotspot, your own hotspot, or a public hotspot for Windows XP (including sp3, sp2, etc.). Try the 3 workable methods below on your computer, such as Asus, Acer, Dell, HP, Sony, Lenovo, Samsung, Toshiba, IBM, Alienware, Compaq, Gateway, LG, Microsoft, MSI, etc.
Top 1. Use Software to Make Windows XP Laptop/Desktop as a WiFi Hotspot
You can use software to create WiFi hotspot in Windows XP without router, and without cmd. OSToto Hotspot (formerly called 160WiFi) enables you to one-click build a free WiFi hotspot and allows you to use your computer as a hotspot access point. You can try it to create a stable and strongest WiFi hotspot in Windows XP to share internet connection for Android devices, iOS devices, tablets, etc.
Free download and install OSToto Hotspot on your computer Windows XP 64 bit or 32 bit.
Then one click to launch this WiFi hotspot creator. It will automatically setup a WiFi hotspot on your Windows XP.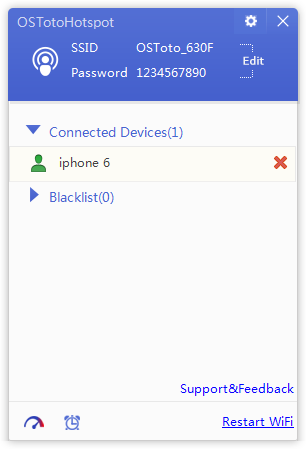 You can edit the hotspot name and password as you like. OSToto Hotspot has the WPA2 for password protection to keep freeloaders out. Your families, friends, coworkers, classmates, roommates, etc. who have your password can join the access point. You can also blacklist anyone from hotspot to share internet connection.
Top 2. Setup a WiFi Hotspot on Windows XP with Graphical Wizard
You can use the graphical wizard feature in Windows XP to create an ad hoc network and turn your computer into a sharing wireless hotspot.
Note: This method is the basic one that Microsoft enables into Windows XP. However, according to some users' reports, there are errors while attempt to enable the shared connections to internet and can't create portable hotspot connection for laptop. You can try OSToto Hotspot in Top 1. It never brings out errors till now.
Step 1. Go to "Manage wireless networks" window. You can click o the Start menu and type "wireless" in the Search box to locate it.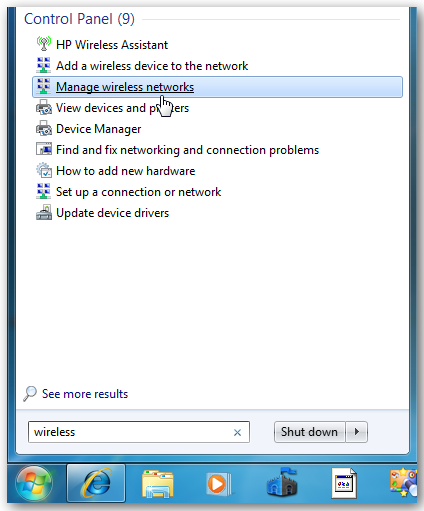 Step 2. Add a wireless network and create an ad hoc network. Enter your hotspot name and password.
These steps are the same with those in Windows 7. You can refer to the details in the post: Create Free WiFi Hotspot on Windows 10/8.1/8/7/XP/Vista.
Top 3. Create a WiFi Hotspot in Windows XP Using cmd
If your Windows XP can't bring out the graphical wizard, you can try to make WiFi hotspot using command prompts. This method can also help convert or transform your Windows XP computer into a wireless hotspot access point.
Note: Since typing the correct command prompts is kind of difficulty, especially for green hands, you need to be very careful. Don't miss any steps. Alternatively, you can try the one-stop and one-click WiFi hotspot creator, OSToto Hotspot, to turn on hotspot on Windows XP.
Here are the general steps. For more details, refer to the steps in Turn Your Laptop into WiFi Hotspot. You will find the detailed information in the content "Top 2. Set up WiFi Hotspot on Laptop/Notebook Manually".
Step 1. Press the Windows + R key combination to bring up a run box. Type "ncpa.cpl".
Step 2. Enable the "Allow other network users to connect through this computer's Internet connection" box.
Step 3. Go to the Command Prompt admin window and type commands.
If you have any problem, leave it in your comment below. We'll check out your messages everyday and try our best to help you out.
RECOMMENDED DOWNLOAD