"I want to share Internet with my mobile phone and tablet via my Windows 8.1 laptop PC, but I don't have a router, because I live in dormitory of school. Tell me what I need to do, please!"-----From forum

I think you may ever be one of them who asked such kind of question about how to turn Windows 8.1 laptop or desktop computer into a WiFi hotspot. It is convenient to share network for Android phone, iPhone, tablet computer or other kinds of devices that can link to Internet with WiFi on PC computer. Technically, it is possible, and not a difficult task, especially, after Windows 7. Let's know how to create hotspot. Actually, the process of sharing network with WiFi hotspot on Windows 8.1 Asus/Dell/HP/Lenovo/Toshiba/Acer laptop is straightforward. We can set up Windows 8.1 PC WiFi hotspot creating with two actions Let's start working steps by steps!
1.Use Virtual network for sharing
Action 1: build up virtual network on Windows 8.1
After Windows 7, user can make a virtual network easily without any router device. Of course, this feature still can work on Windows 8 and Windows 8.1.
To set up a WiFi hotspot on Windows 8.1 laptop and desktop, first of all, we press Win+X+A to open CMD prompt as administrator, then type the following commends:
netsh wlan set hostednetwork mode=allow ssid=Your Windows 8.1 WiFi Hotspot key=windows 8.1
Of course, you can change the SSID and key based on your need (if you copy what I type, the SSID is Your Windows 8.1 WiFi Hotspot, and the key is windows 8.1). After finishing typing commends, press enter, computer will help you to enable WiFi hotspot in Windows 8.1 PC. CMD windows will show like this:

Working is still in the CMD window, press the following commend to start virtual network for turning Windows 8 and Windows 8.1 computer into WiFi hotspot:
netsh wlan start hostednetwork


At this moment, you just go to act 2 to share this virtual network for the Windows 8.1 PC can be linked as WiFi hotspot.
Acttion 2: Share Windows 8.1 virtual network for other devices to link
After finishing act 1, open "network connections" to share this virtual network, and your Windows 8.1 PC will become WiFi hotspots. Check the name of the network that is made in action 1, and then right click it to call out "Properties''. Visit the Sharing tab and make sure Allow other network users to connect through this computer's Internet connection is enable.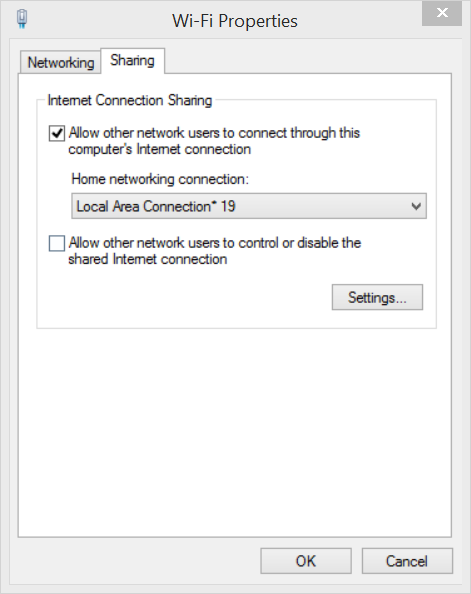 Here, other devices can search out and link to the Windows 8.1 computer WiFi hotspot.
Faster way to create WiFi Hotspot on Windows 8.1 Laptop and desktop computer
However, if you think the way mentioned above is still a little difficult for you, you can use other kind of freeware to make Windows 8.1 laptop or desktop PC WiFi hotspot more easily and faster.

For example, OSToto Hotspot can help your Windows 8.1 PC become a free WiFi router without typing any CMDs, just 3 steps, you can freely and easily use Internet on Android phone, iPhone, tablet computer, etc with a Windows 8.1 Asus/Dell/HP/Acer/Lenovo/Toshiba/Sony/Samsung laptops.

Step 1: Download and install OSToto Hotspot for your Windows PC.

Step 2: Run it to turn on WiFi hotspot with one click.

Step 3: Search the hotspot you made with OSToto Hotspot on your Android phone, iPhone, or tablet,etc, just link to it for Internet surfing.

(P.S. No matter if you use CMD way or OSToto Hotspot, if your Windows PC is a desktop or a laptop that has no wireless network card, it is recommended for you to use a USB wireless network card to enable wireless network feature)

RECOMMENDED DOWNLOAD