You may want to create a WiFi hotspot on the Lenovo Yoga laptop, tablet or desktop so that you can share the Lenovo WiFi hotspot with multiple devices, like iPhone, iPad, Kindle, Windows phone, Huawei P10, other Android mobile phones or even laptops. Because if there is a wireless hotspot access point in a big house with dead WiFi zones, it will be helpful to improve your phone's connectivity and battery life whenever you're on-the-go as well as avoid mobile data plan overcharges.
Most of the Lenovo Yoga series notebooks or tablets, such as Lenovo Yoga Book, Lenovo Yoga 900S, Lenovo Yoga 710, etc., ship with built-in wireless adapters that make sharing the network connection a cinch. Though Yoga notebook supports such feature, most of the users who have basic computer skills with very little knowledge of the Windows inner workings don't know how to create a WiFi hotspot on their Lenovo Yoga device. Today, let's have a close look at how to make this process trivial on a Windows 10 Lenovo Yoga device.
How to Create a Lenovo WiFi Hotspot on Your Yoga Laptop
Instead of using the complicated commands to build the WiFi hotspot here we've had top two methods for you to make your Lenovo Yoga computer a free virtual WiFi router. Before we start, there are two important things you need to check to make the WiFi hotspot creating successful.
1. Make Sure the Lenovo Yoga Is in Internet Connection
To set up a stable and strong wireless signal, you need to make sure that the Lenovo Yoga computer is connected to the Internet via the Ethernet or wireless connection.
2. Make Sure the Wireless Network Adapter Works Properly
You can go to the Device Manger on the Windows to check if there are any yellow exclamation marks beside the network adapters. If so, the network adapter or card can't be recognized by the computer, and you can't create a Lenovo WiFi hotspot on the Yoga laptop or tablet. So try to reinstall or update the wireless network drivers to fix the issues.
Now let's begin.
Method 1. Make a Windows 10 Lenovo Yoga WiFi Hotspot via Settings
Windows 10 comes with a handy built-in tool that allows you to turn your Lenovo Yoga laptop, tablet or desktop into a virtual WiFi hotspot. You can easily access to the Windows Settings on Windows 10 and make it within a few minutes. Here's how it all works.
Step 1. Use Windows shortcut keys Win + I to launch the Settings on Windows 10. Click the Network & Internet to the network settings box. Scroll down for the Mobile hotspot tab, and then switch the button under the Share my Internet connection with other devices to turn on the WiFi sharing feature.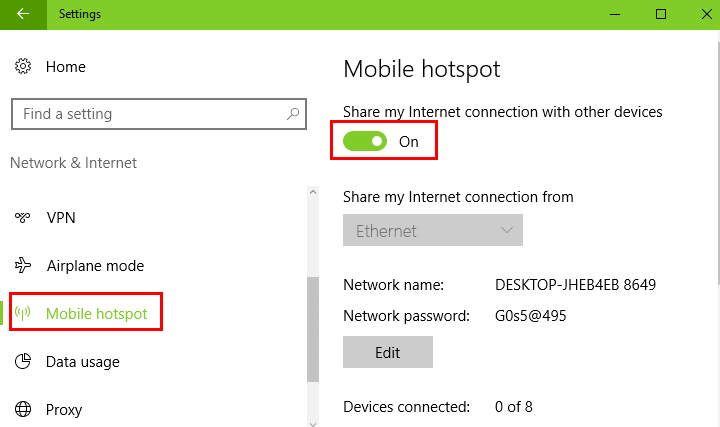 Step 2. Windows will default a Network name and Network password that looks tough to remember. You can click the Edit button to change them to the ones you prefer. Then click Save to apply the changes.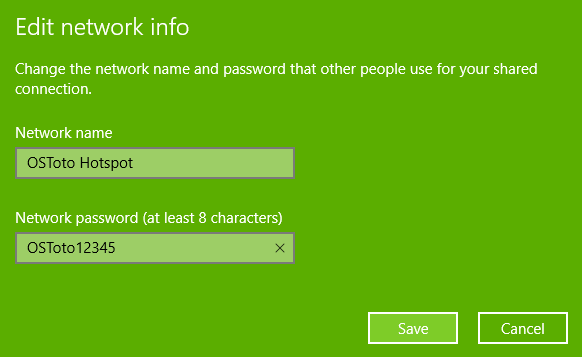 Step 3. Now your Lenovo Yoga laptop can function as a WiFi hotspot through which you can connect your other devices to the Internet. Open your WiFi-enabled device, like iPhone, iPad, Samsung Galaxy phone, Kindle or other laptops and enter the network name and the password to connect to the Internet access point.
It is convenient to convert your Lenovo Yoga device into the WiFi hotspot created by Windows 10, however, if someone else decodes the password and connects to the wireless network without your allowance, you'll receive no notice, and the network speed may slow down.
Method 2. One Click to Create a Lenovo WiFi Hotspot on Yoga Laptop/Tablet/Desktop
If you prefer a safer, easier and more effective solution, you may want to check out OSToto Hotspot (formerly called 160WiFi), an instant WiFi hotspot creator for Lenovo Yoga computer. It enables you to create a WiFi hotspot on Lenovo laptop or desktop running both 32 bit and 64 bit Windows 10, Windows 8.1, Windows 8, Windows 7, Windows XP and Windows Vista.
It is efficient and easy to transform the Windows Yoga laptop, tablet or desktop computer to a wireless hotspot created by OSToto Hotspot. After you launch the wireless hotspot creator, it will automatically set up a stable and strongest WiFi hotspot. You can connect your Android phone, laptop, WiFi printer and other WiFi-enabled devices to the internet access point with the name and password. Also, it allows you to edit the hotspot name and password as you prefer.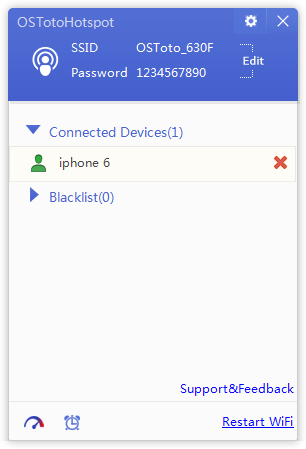 It is safe to turn your Lenovo Yoga computer into a WiFi hotspot with OSToto Hotspot. It follows the standard WPA2 for password protection and you can keep the WiFi squatters out by blacklisting them on the creator.
Make Your Lenovo WiFi Hotspot on All Lenovo Yoga Computer
You can turn all Lenovo Yoga computers into WiFi hotspots and share the internet connection with your friends or wireless-enabled devices. Below are the most popular Lenovo Yoga series laptops, tablets, and desktops on which OSToto Hotspot can make a free WiFi hotspot.
| | | |
| --- | --- | --- |
| Lenovo Yoga 2 Pro | Lenovo Yoga Book | Lenovo Yoga 900 |
| Lenovo Yoga 900S | Lenovo Yoga 700 | Lenovo Yoga 710 |
| Lenovo Yoga 11e | Lenovo Yoga 12 | Lenovo Yoga 14 |
| Lenovo Yoga 15 | Lenovo Yoga 260 | Lenovo Yoga 370 |
| Lenovo Yoga 460 | Lenovo Yoga | Lenovo Yoga 11 |
| Lenovo Yoga 11s | Lenovo Yoga 13 | Lenovo Yoga 2 11 |
| Lenovo Yoga 2 13 | Lenovo Yoga 3 Pro-1370 | Lenovo Yoga 300 |
| Lenovo Yoga 310 | Lenovo Yoga 500 | Lenovo Yoga 510 |
| Lenovo Yoga 720 | Lenovo Yoga 11e Chromebook | Lenovo Yoga A12 |
| Lenovo Yoga tab 3 | Lenovo Yoga tab 3 Plus | Lenovo Yoga tab 3 Pro |
| Lenovo Yoga tablet 10 | Lenovo Yoga tablet 2 Pro-1380 | Lenovo Yoga tablet 8 |
Besides, OSToto Hotspot works on any other computers as well, like Acer, Sony, IBM, HP, Toshiba, Compaq, Microsoft, MSI, Alienware, Gateway, LG, etc. You can turn the laptop or desktop of the brands into a free WiFi router with just one click via the method above.
That's it. If you have any other questions or suggestions on creating Lenovo WiFi hotspot on your Lenovo Yoga device, don't hesitate to inform us via the comment section below.
RECOMMENDED DOWNLOAD