It is useful to make a WiFi hotspot available and share WiFi network with portable devices. There are some terms about hotspot, like "top 10 free WiFi hotspot apps", or "top 20 free WiFi hotspot software", etc. However, not all the WiFi hotspot programs work, and you just need one that best suit your device, especially when it comes to places that public WiFi services haven't yet covered all, like the country India, schools, your own house, etc. The best free WiFi hotspot software doesn't mean that it's the best one, but that it works nicely and always the suitable one for your device.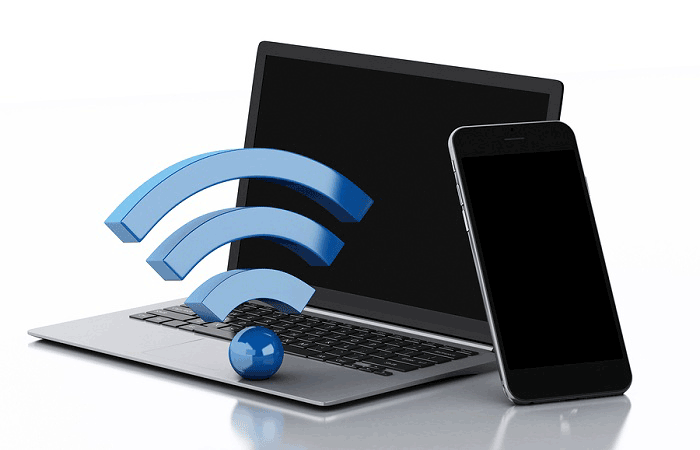 Sharing internet connection with the WiFi hotspot feature makes enough sense, as most WiFi hotspot devices, like a laptop, iPhone, iPad, iPod touch, Samsung Galaxy, LG G One, or other mobile phones, do have Wi-Fi in built. Smartphones offer a more direct way to switch on hotspot and share your own internet connection to other devices, but a computer doesn't have such an option and it always requires commands to set up the free Wi-Fi hotspot, especially in Windows 10, Windows 8.1, and Windows 8. This makes Wi-Fi sharing a bit "hard" for basic users.
A WiFi hotspot creator tool is a wise choice, because it can instantly turn your Windows laptop, desktop or notebook into a Wi-Fi hotspot access point with just one click, and then share the wireless internet connection with multiple Wi-Fi enabled devices. You can try OSToto Hotspot (formerly named 160WiFi), which has received millions of good reviews from users. This cheapest WiFi hotspot app can help make your own WiFi hotspot or a public one. And it works on all Windows OS, 64 bit or 32 bit, including Windows 10, Windows 8.1, Windows 8, Windows 7, Windows XP and Windows Vista.
Free download and install cheep OSToto Hotspot on your Windows computer.
Top Free WiFi Hotspot App to Create a Wi-Fi Hotspot on Windows Desktop/Laptop/Notebook
Below are the easy steps to show you how to one click turn on the Wi-Fi hotspot on your computer, like Dell, Asus, Acer, HP, Sony, Lenovo, Samsung, Toshiba, IBM, Alienware, Compaq, Gateway, LG, Microsoft, MSI, etc. You can share your Windows computer internet connection with your families, friends, co-workers, roommates, classmates, etc on their own Wi-Fi enabled devices.
Step 1. Launch Free Wi-Fi Hotspot Creator
After you download and install OSToto Hotspot, launch it. It will automatically start a Wi-Fi hotspot on your computer.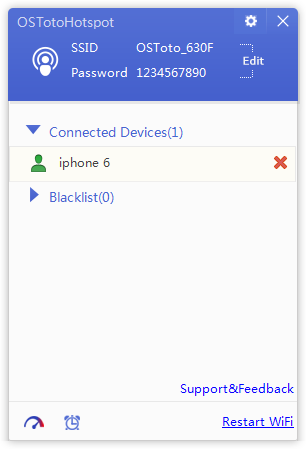 Step 2. Edit the Wi-Fi Hotspot
You can edit the Wi-Fi name (also called SSID) and password. OSToto Hotspot has the WPA2 for password protection to keep freeloaders out. And anyone who has the password can easily join your WiFi sharing access point. You can blacklist any unwanted devices.
With the one click, OSToto Hotspot can convert your computer into a Wi-Fi router and transform it into WiFi sharing point. Now connect your portable devices to the Wi-Fi hotspot.
You can also try to manually create the Wi-Fi hotspot on your computer with commands. For more information, refer to the article: Top 3 Ways to Create Wi-Fi Hotspot on Computer.
Free Wi-Fi Hotspot Creator App Doesn't Work?
If you find your free Wi-Fi hotspot app doesn't work, that might not mean it is really not working. The major cause may lies in the wireless adapter. Make sure your computer has a working wireless adapter. Most laptops and notebooks have a built-in wireless card. For desktop, you can buy a USB wireless card to insert into the computer.
Another key cause is the wireless driver. If the wireless driver is outdated, corrupted, damaged, missing or incompatible, your compute won't detect the wireless adapter. You can try Driver Talent to fix the wireless driver on your computer. After that, use the free Wi-Fi hotspot app, OSToto Hotspot, to build a free WiFi hotspot to share your internet connection.
RECOMMENDED DOWNLOAD