To free up valuable hard disk space, uninstalling unwanted programs and apps is one of the most common tasks that all Windows 10 PC users face. Here are 2 different ways to uninstall apps or programs in Windows 10
Method 1. Uninstall Apps in Windows 10 from the Start Menu
You can uninstall apps and programs in Windows 10 directly from the Start menu. But the fact is that you can just remove the main files of apps or programs, in other words, you can't achieve a complete uninstall. There are many residual files left on your computer.
To uninstall apps in Windows 10, do the following:
Step 1. Click Start to open the Start menu
Step 2. Click All apps
Step 3. Find the apps you want to uninstall in the All apps list and right-click on it
Step 4. Select Uninstall from the context menu
Note: If you don't see the Uninstall option of some apps, because these apps might be built-in apps. You can't get rid of them.
Method 2. Uninstall Programs in Windows 10 with OSToto Software Box
Although Windows 10 has its own program uninstaller, it doesn't always do the best job. It is complicated for computer novices to manually delete those leftover registry trashes. And if not doing well, the improper operation may cause PC crashes. In addition, it doesn't allow you to uninstall the built-in programs or apps.
If you are tired of manually uninstalling apps and looking to uninstall apps and programs effectively and effortlessly, you could adopt a powerful and professional Windows apps uninstaller utility tool like OSToto Software Box, the simplest and quickest way to thoroughly uninstall apps and programs in Windows 10, which could remove every trace of a program with just a few clicks of your mouse to streamline your system.
Apart from apps uninstall, OSToto Software Box is packed with many other features, such as apps download, apps install, and apps update.
Click the button below to grab OSToto Software Box directly.
Follow the 3 easy steps to completely uninstall programs and apps in Windows 10 with OSToto Software Box.
1. Launch OSToto Software Box
Double-click OSToto Software Box to launch it on your PC. Click the "Uninstall" tab on the left side to go to the "Uninstall" menu.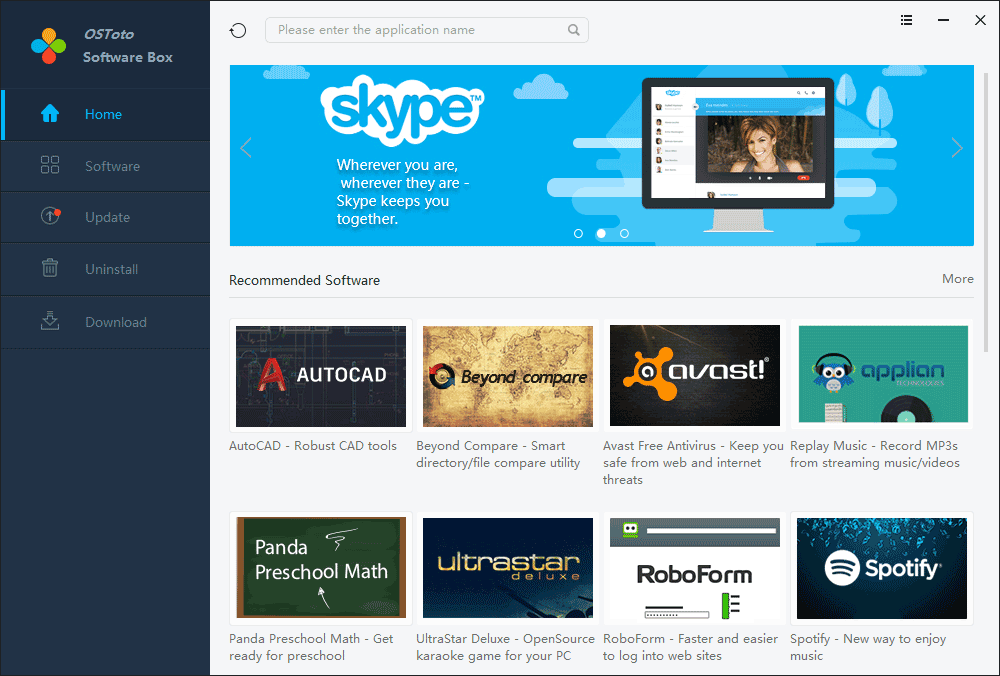 2. Uninstall Apps and Programs in Windows 10
Click the "Uninstall" button next to the app or program you want to delete from your PC. OSToto Software Box will automatically uninstall the Windows app.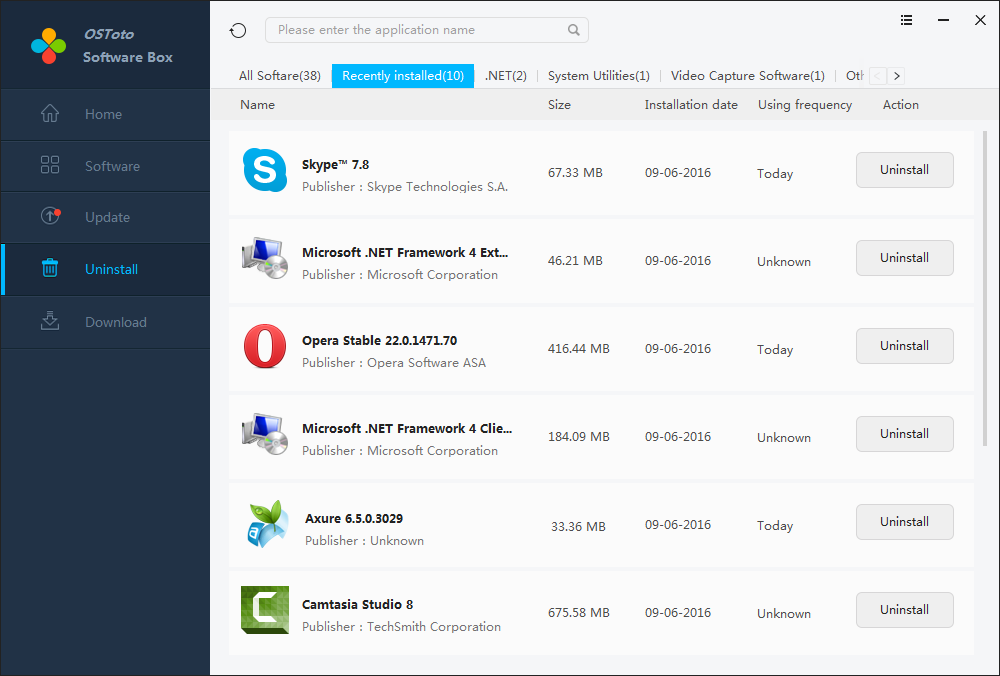 Click "Strong clear".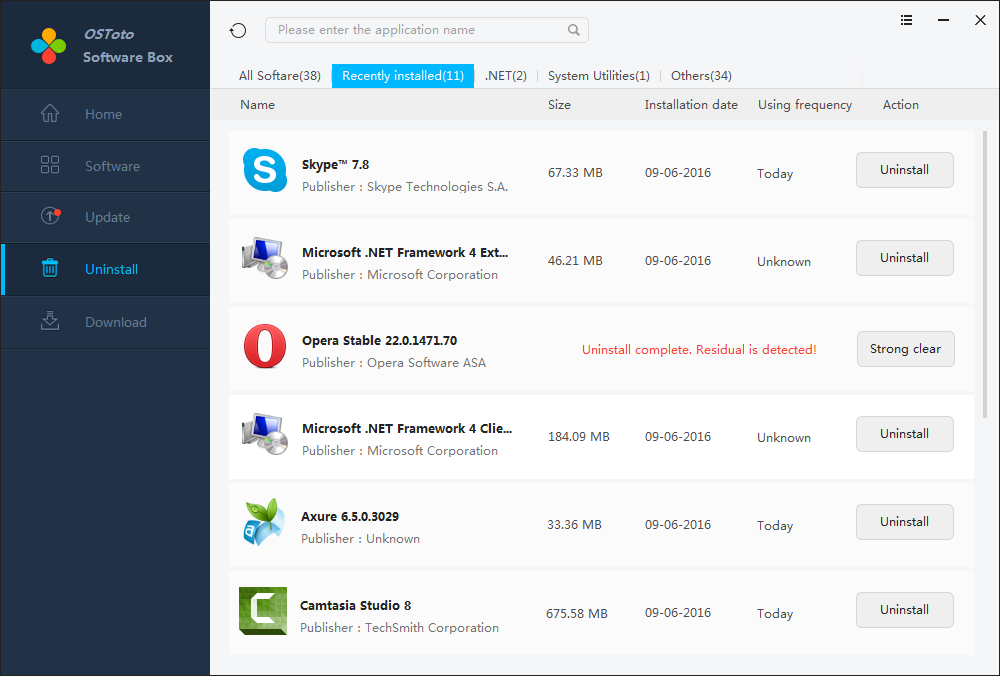 Click "Start clearing" to empty the unused residual files.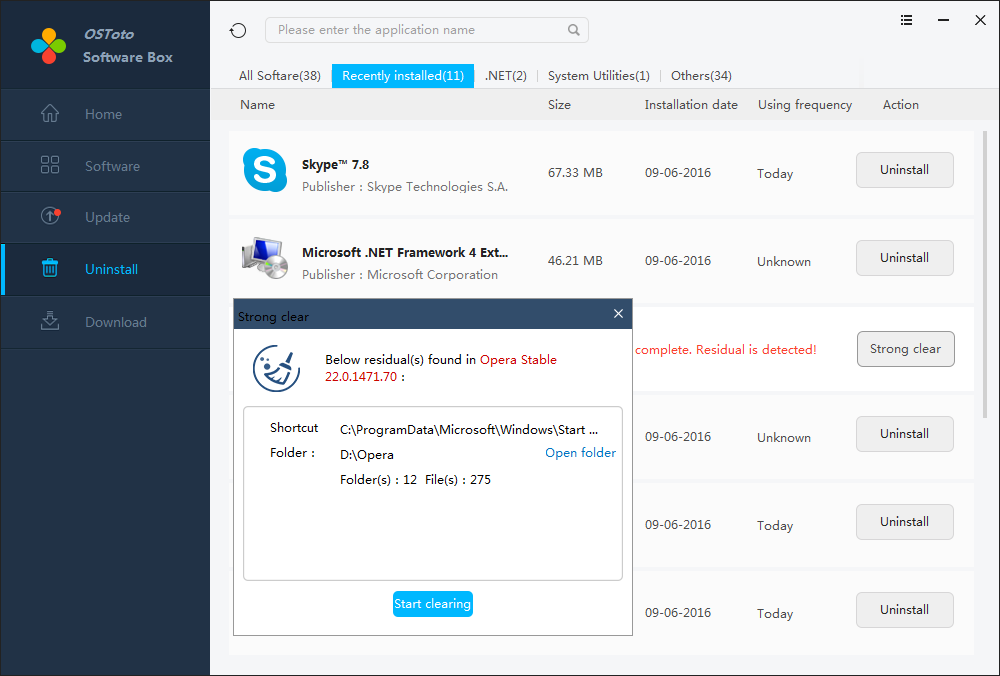 3. Finish Apps and Programs Uninstall
Click "Complete" to finish the app or program uninstall process.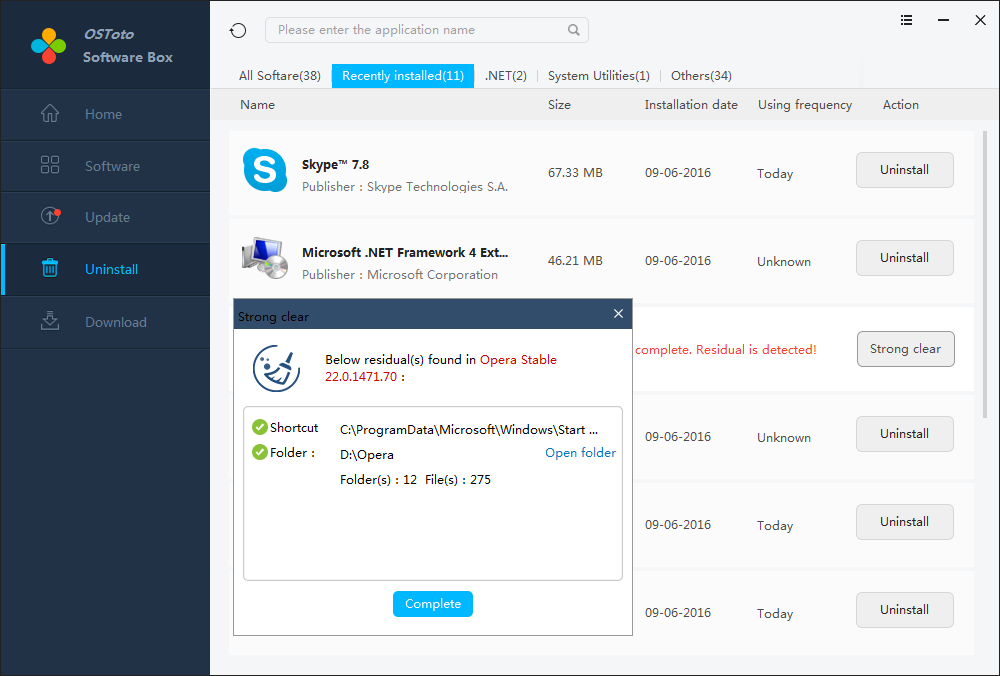 With OSToto Software Box, you could perform a successful and thorough removal of common apps and programs in Windows 10, even the most stubborn programs.
Do you use any Windows apps uninstall tool in Windows 10? Please share with us in the comments section below.