After the Windows 10 upgrade, many users find their computer is stuck on a poorly slow performance and they often want a system cleanup in the new Windows OS. In fact, it is the files and programs we fail to clean up result in the problem.
Usually, a 100% disk usage warning follows such slow computer, which really affects the continuity of your office work. If your mouse pointer lags or disappears, your Bluetooth speakers sound delays or your PC boots slowly, it is better for you to perform a system cleanup over the computer to remove those junk files and speed up the PC.
How to Perform a System Cleanup in Windows 10
We've had some tips for you to perform a Windows OS cleanup. You can clean your PC via either a manual way or an automatic PC cleanup utility. Let's take a look at the top 2 ways you can utilize to clean up Windows 10.
Way 1. Perform System Cleanup Manually
Disk Cleanup is a handy tool built in Windows 10 that you can use to remove the junk files, wipe out registry traces and free the disk space. You can follow the steps below to clean the disks.
1. Type disk cleanup into the search box on the task bar (you can also use Windows shortcut keys Win + S to launch the search box).
2. Click on the Disk Cleanup under the Best match entry.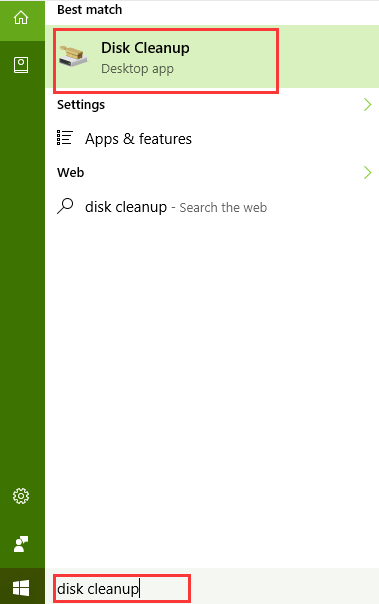 3. Select the drive you are going to perform a system cleanup, for example, drive (C:), and then click on the button OK. Windows will do a scan over the computer. You need to wait for a while.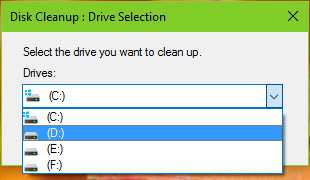 4. When the Disk cleanup for (c:) box pops up, you can check the items you want to remove, and then click on OK.
5. Click on Delete files to confirm the disk cleanup.
After the drive C cleanup is completed, you can repeat the same steps to perform cleanups on drives (D:), (E:), (F:), etc. You have to be patient because this may take you quite a long period.
Way 2. Clean up System in Windows 10 in One Click
There are many junk files or registry races you need to remove from your Windows 10, but wrongly deleted files may result in serious system crashes such as UNEXPECTED KERNEL MODE TRAP error, unidentified network problem, Windows 10 graphics error 43, etc.
If Way 1 takes you much time or if you are not sure which file should be deleted permanently, you may like to take a one-click solution, OSToto PC Speeder, to help you remove downloaded program files, temporary files, offline web pages, old thumbnails, etc.
Here are 2 easy steps for you to perform a system cleanup in just one click with this smart PC manager utility.
1. Launch OSToto PC Speeder and select the Clean menu. PC Speeder will scan over all the drives automatically for all the junk files.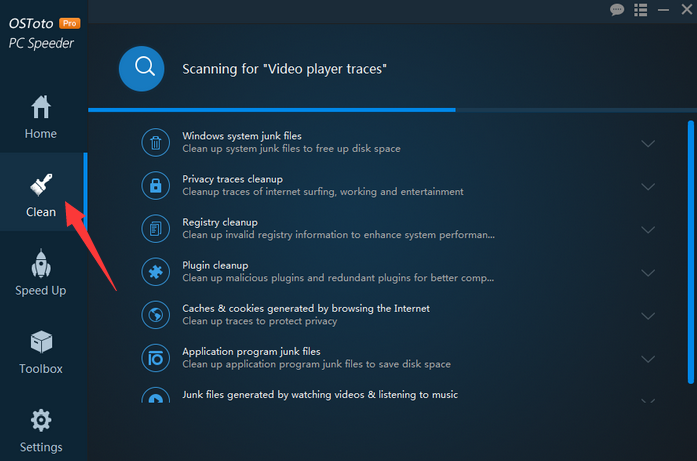 2. Click the Clean button to make PC Speeder remove all the system junks files, invalid registry information, cookies, traces, plugins, etc. and free the disk space.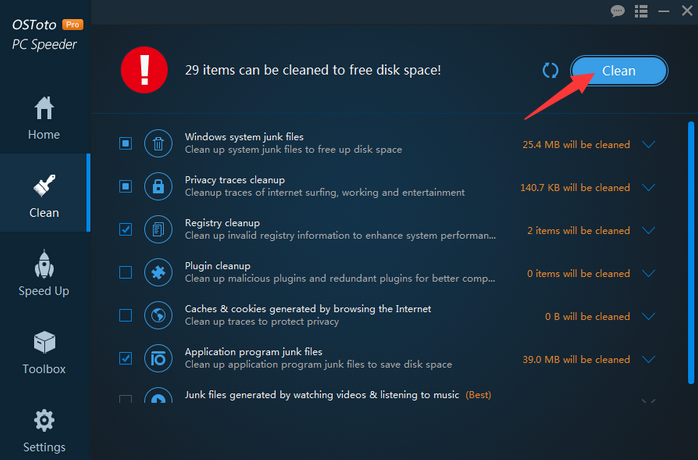 Now all the faulty and junk files have been wiped out and your Windows 10 is running at its best.
Note: You can also use PC Speeder to optimize your computer, including memory usage management, registry cleanup, network configuration, system configuration, etc.
Hope this can be a reference for you to perform a system cleanup in Windows 10 and offer the system high performance and rock-solid stability. If you still have any doubt related to PC cleanup, don't hesitate to ask the same under the comment section below, and we will be happy to answer them.