Windows 10 is the latest Windows OS but it is never free from some PC problems, so you need to optimize and speed up your Windows 10 regularly after the upgrade.
To make your Windows 10 faster, there are a mess of PC matters you need to take up, such as disabling unnecessary startups, performing disk cleanup, repairing corrupted system files, fixing driver issues, etc. But if you spend your whole day on things like that, how would you enjoy your life? Thanks to such a high-tech era, there're ways to optimize and speed up your computer in seconds!
See Also: Driver-related Issues and Fix in Windows 10
How to Optimize and Speed up Windows 10 Quickly
Below are top 2 ways for you to optimize your Windows 10 and offer it high performance and rock-solid stability.
Way 1. Use Windows 10 System File Checker to Optimize PC
System File Checker (SFC), which often appears in Command Prompt with command line sfc /scannow, is used to detect and automatically fix the corrupt or missing files in Windows 10. Corrupt system files can result in various Windows 10 issues, like SYSTEM THREAD EXCEPTION NOT HANDLED error, MSVCP110.dll missing error, system restore error 0x8000ffff, etc. This will slow down the computer even damage the machine.
Here is how to use the System File Checker command line to scan and fix file errors and optimize Windows 10:
1. Use Windows shortcut keys Win + X to launch the Jump List, and then select Command Prompt (Admin).
2. Type the command line sfc /scannow into the dialog box and hit the key Enter.
Wait until Windows 10 finishes the scanning. It will fix the errors automatically if any missing or broken files are detected.

3. Follow the on-screen instruction, and finally, restart the computer to finish the Windows 10 optimization.
Have you got your Windows 10 running faster than before after the optimization? If this does not take too much effect on your computer, you can go to Way 2 for more solutions.
Way 2. Use OSToto PC Speeder to Optimize and Speed up Windows 10
OSToto PC Speeder is an efficient Windows 10 optimizing program that helps you automatically manage memory usage, CPU occupancy, redundant process, corrupt files and system configuration, etc. When you can't resolve PC speedup issues in scannow command line, it is your another choice to get an optimized and boost computer with PC Speeder.

Click the button above and speed up your Windows 10 instantly with the 2 easy steps below.
1. Launch OSToto PC Speeder. Select Home menu and click Scan Now to detect issues that slow down your computer. After the scan, click on Optimize button to make PC Speeder to optimize your PC performance.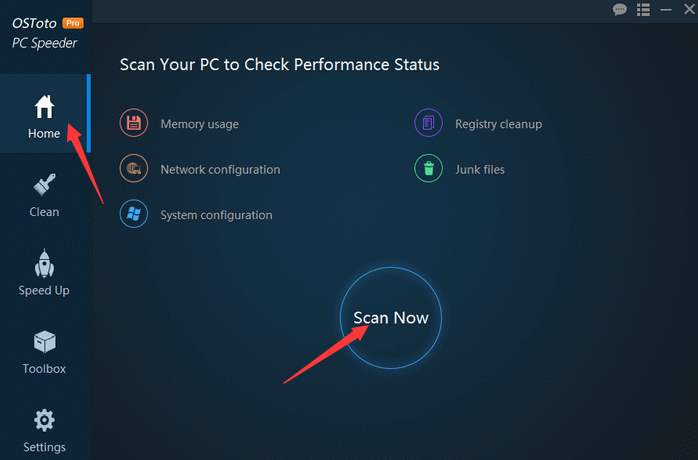 2. Select Speed up menu and PC Speeder will automatically find items that need to optimize. After that, click on Speed up button.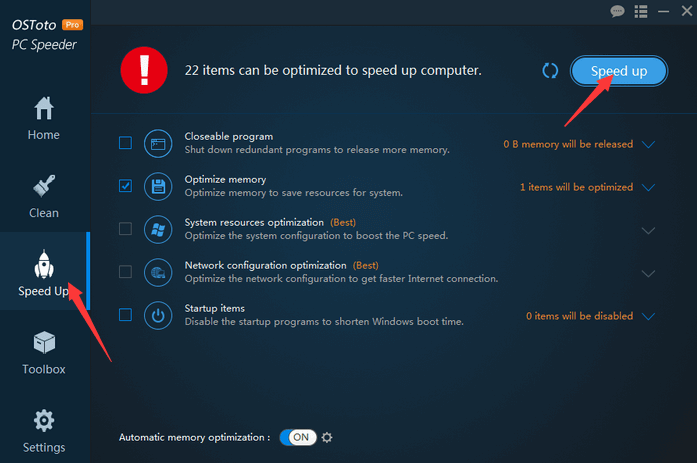 Now your Windows 10 is running at its best after the optimization and speedup. You've said good-bye to the slow computer and now you are able to enjoy the new features of your Windows 10.
Note: You can also use PC Speeder to do registry cleanup, network configuration, system configuration, etc.
Hope this can be a reference for you to optimize and speed up Windows 10. If you still have any doubt related to Windows 10 optimization and speedup, don't hesitate to comment below, and we will try our best to help you.