As your Windows 10 startup programs grow in quantity, your Windows 10 load time or boot time may be compromised. The more programs you install, the slower the Windows 10 startup is. So, to make sure a fast load time and allow for smooth function of your Windows, it is necessary to check and disable some unnecessary culprits like startup programs, apps, services, etc.
The following are some of the most practical solutions that you can use to remove or disable unnecessary Windows 10 startups and speed up the computer.
Way 1. Disable Improper Windows 10 Startup Programs with Handy Windows Tools
System configuration and Task Manager are two built-in Windows 10 tools that allow you to remove any that are slowing your system down.
Disable Unnecessary Services in System Configuration
1. Use Windows shortcut keys Win + R to launch Run. Then type into msconfig and hit Enter.
2. In System Configuration, go to Services tab and check Hide all Microsoft services.
3. Scroll down the slider and uncheck those services that are unnecessary to run during the bootup process. Then click Apply.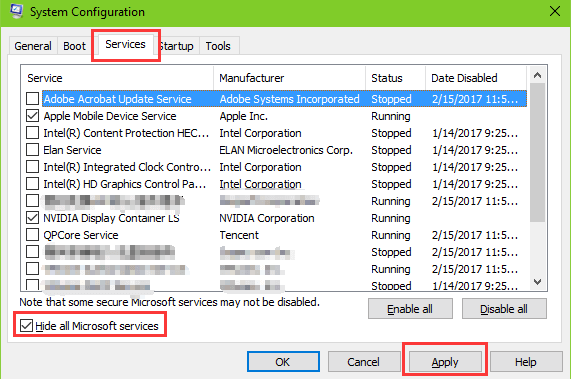 Then you can go to next step in the same window.
Disable Unnecessary Startup Programs in Task Manager
In System Configuration, go to Startup tab. The original Startup feature has been shifted from System Configuration to Task Manager. You can click Open Task Manager to reach for the section and manage startup items.

Note: You can also use shortcut keys Ctrl + Shift + Esc or right click on Task Bar to open Task Manager.
1. Choose Startup tab in Task Manager. (If you fail to find the tab, just click More details.)
2. Scroll down the slider and highlight a startup item according to its Status and Startup impact.
3. Click the bottom-right Disable button and remove the startup item rated as high impact.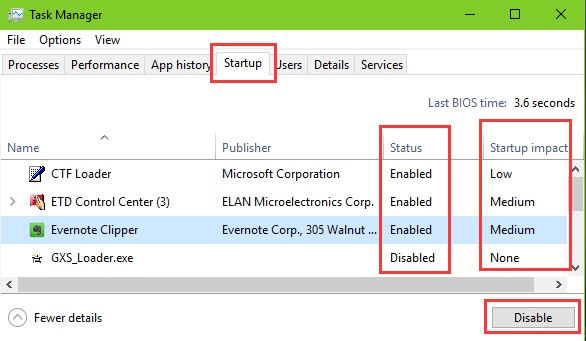 Now you've disabled some startup programs. It is better to perform a restart of the computer once you finish the modification above.
Way 2. Disable Improper Windows 10 Startup Programs in Registry
You can also stop apps from opening on startup via Windows 10 Registry.
1. Launch Run with the method we've mentioned in Way 1. And then type into regedit and press Enter.
2. Expand the entries in Registry Editor navigation panel according to the two paths below:
HKEY_LOCAL_MACHINE\SOFTWARE\Microsoft\Windows\CurrentVersion\Run
HKEY_CURRENT_USER\Software\Microsoft\Windows\CurrentVersion\Run
3. Right click on the startup item you want to remove in the right panel, and select Delete.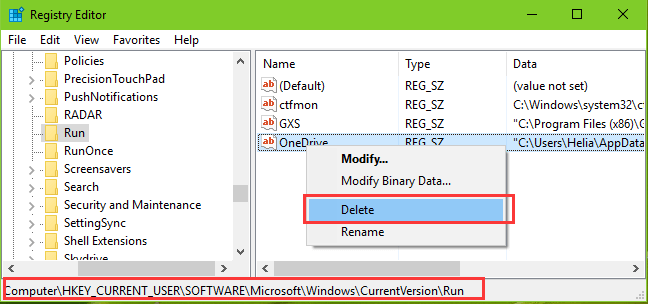 Press F5 to refresh the Registry and close it. Restart your PC to see if this speed up the computer.
Note: It is better to backup Registry before any registry changes in case serious system issues occur suddenly, like the MSVCP110.dll missing error, endless reboot loop and more. If you encounter other registry problems, click here.
Way 3. Disable Unnecessary Startup Programs via OSToto PC Speeder
If you know little about the inner working of Windows and have no idea which Windows 10 startup should be removed, it is recommended to use OSToto PC Speeder to remove or disable startup programs that are set to run during the booting and cause the delay.
PC Speeder is a free and smart tool to speed up your computer. You can click the button above to have such startup manager directly and follow the easy steps below to disable improper application startups with just one click.
1. Launch OSToto PC Speeder and click Scan now to check your system performance status. When it finishes, click Optimize to improve the performance.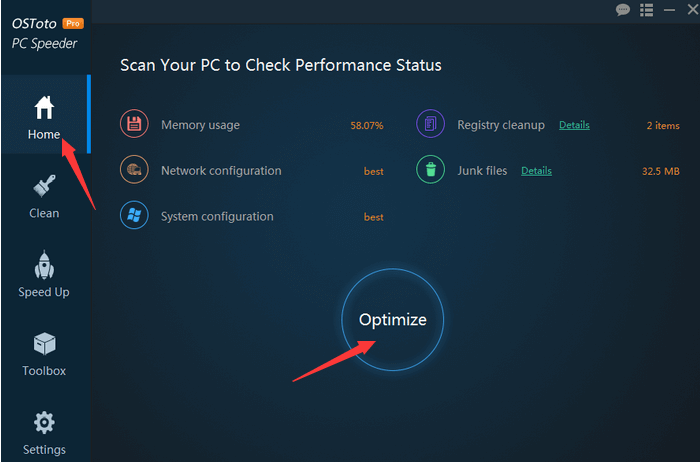 2. Go to Speed Up tab. It will automatically scan the PC again. Then expand the Startup items and check startup programs that you wish to disable and click Speed up.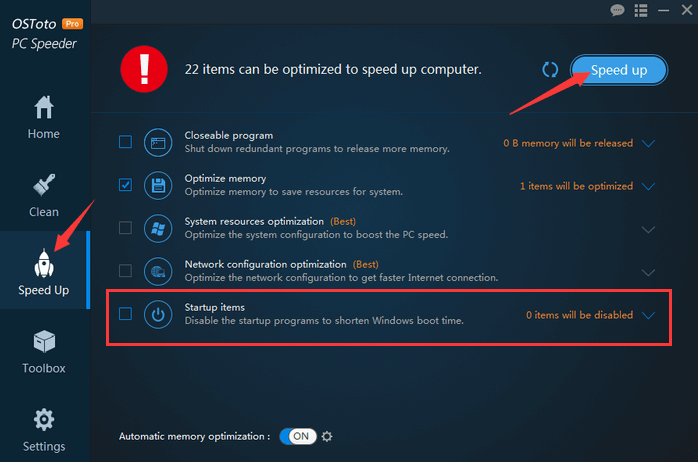 Perform a restart. Now you've disabled unnecessary Windows 10 startups and resolve the Windows boot time delay. Enjoy yourself on your Windows PC.
If you have any questions or other solutions of how to disable Windows 10 startup programs, just reach for the comment section below and tell us. For more information about this site, see Resources.