It is necessary to clean registry when you find your Windows PC is in poor performance after regular use. Registry is a database storing massive collection of settings for apps, OS configurations, all attached devices and user preferences for your PC. When the Windows registry grows with leftovers like unused keys or .dll file conflicts, it may slow down your computer and cause some system problems.
This article will show you top 3 methods to clean registry in your Windows 10, 8.1, 8, 7, Vista or XP and speed up computer. You have both the manual and automatic solutions.
Here's a small snip to get you started: Backup registry.
Backup Registry before Any Registry Cleanup Changes
Before you clean the registry in Windows, it is extremely vital to backup the registry. If you encounter system issues after the cleanup, such as MSVCP110.dll missing error, 0xc0000142 cmd error and more, you can recover data from the registry backup. Let's see how to create the backup:
1. Use Windows shortcut keys Win + R to launch Run. Then type into regedit and hit the Enter. This will open the Registry Editor.
2. Highlight Computer in the left column. Then go to File menu and select Export.
3. Name this registry backup and click Save to store it to an appropriate location on your computer.
This will back up the whole registry. And now you can go to the methods below to do the cleanup of registry.
Method 1: Clean Registry in Registry Editor
Following are some common items you can clean up in Registry Editor.
Clean Registry Keys of Uninstalled Programs
1. Expand the entries in Registry Editor navigation panel according to the path below:
HKEY_LOCAL_MACHINE\SOFTWARE\Microsoft\Windows\CurrentVersion\Uninstall
2. Check DisplayName and UninstallString in each sub-keys of Uninstall.
3. If you find the name of the program you've uninstalled, you can right click this sub-keys and select Delete.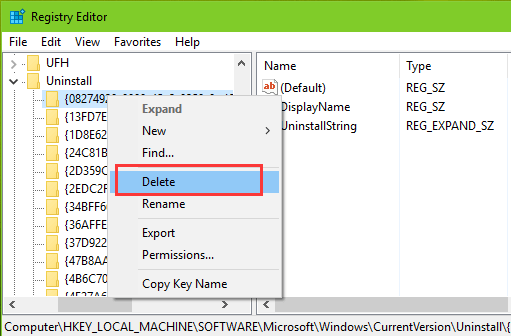 Note: If you have program or software that runs directly without the installation package, you can go to HKEY_CURRENT_USER > Software to find them and delete the proper folder. Or use shortcut keys Ctrl + F to look for related keys or value and then clean them up.
Clean Invalid DLL Files in Registry
1. Follow the path below in Registry Editor:
HKEY_LOCAL_MACHINE\SOFTWARE\Microsoft\Windows\CurrentVersion\SharedDLLs
2. Scroll down the slider in the right pane and check the Data to see if there are 0 in brackets. (0 means the .dll file is invalid.)
3. Right click on such items and select Delete to remove them.
Note: Generally, it is not recommended that users delete or modify registry manually in case serious system issues occur. If you have basic computer skills with very little knowledge of the inner workings of Windows, it is better for you to look at the automated solutions provided below.
1. Open Notepad and copy and paste the following code:
@echo off
del/f/s/q %systemdrive%\*.tmp
del/f/s/q %systemdrive%\*._mp
del/f/s/q %systemdrive%\*.log
del/f/s/q %systemdrive%\*.gid
del/f/s/q %systemdrive%\*.chk
del/f/s/q %systemdrive%\*.old
del/f/s/q %windir%\*.bak
del/f/q %systemdrive%\recycled\*.*
del/f/q %windir%\prefetch\*.*
rd/s/q %windir%\temp & md %windir%\tempemp% &md %temp%
del/f/q %userprofile%\cookies\*.*
del/f/q %userprofile%\recent\*.*
rd/s/q \"%userprofile%\Local Settings\Temporary Internet Files\"
cls & echo Cleaning Finishes:)
echo. & pause
2. Name this file in .bat format (e.g. Clean.bat) and then save it.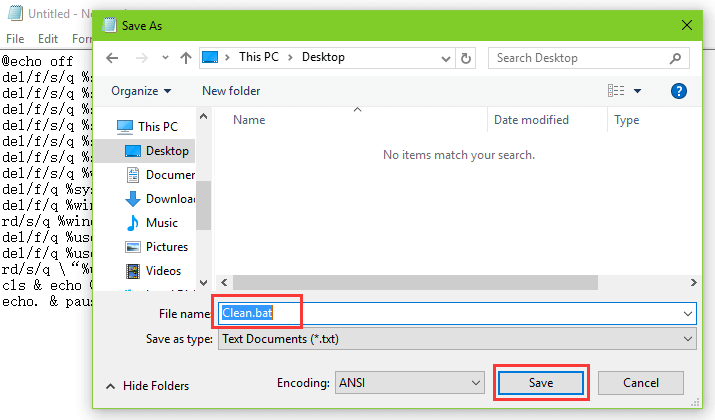 3. Double click the .bat file to perform cleanup. When you see "Cleaning Finishes" you can press any key to exit.

Method 3: Use OSToto PC Speeder to Clean Registry
If you're bored with the complex methods above, you can also use OSToto PC Speeder to clean registry and other system junk files in several clicks. OSToto PC Speeder is one of the best registry cleaners and PC optimization utility that is able to run on Windows 10/8.1/8/7/Vista/XP computer. You can click the button below to download it directly and clean the registry and speed up the computer instantly.
1. Launch PC Speeder and click on Scan now to scan your PC. When it finishes the scanning, you can click on Optimize to clean the registry.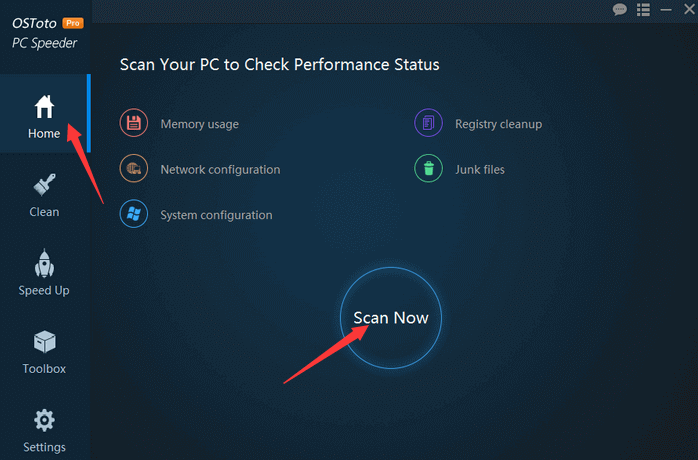 2. Choose Clean tab, and it will start another scanning. When it finishes, you can expand the Registry cleanup for details and click the Clean button to remove invalid registry information.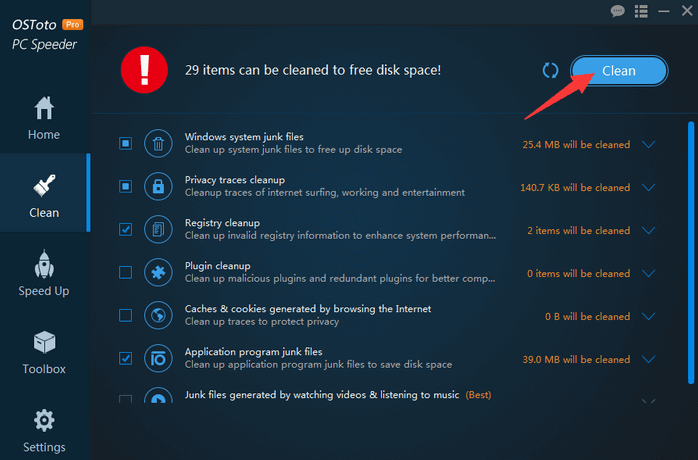 Now you've clean up registry on your Windows PC and speed it up.
If you have any questions, suggestions or maybe some other solutions of how to clean registry manually or automatically, your can just reach for the comment section below and tell us.