It's time to backup iPhone, iPad, iPod Touch because the new iOS, namely iOS 10.3, comes with a batch of updates and new features by the end of this March. iOS 10.3 is now available on iPhones from iPhone 5 to iPhone 7Plus, and those Apple devices users can experience the new features by upgrading in the Software Update. iOS 10.3 comes with a huge update and the major highlights of the update are:
Support searching lost AirPods via Find My iPhone

Support using Siri for paying, scheduling and car-status-checking with corresponding apps

Support shortcuts in the status bar for quick selection of recent apps and access to Up Next and recent albums in Apple Music Now Playing screen

Apply 3D Touch on the displayed temperature and Podcasts

Allow deleting useless invite of junk report in Calendar

Other improvements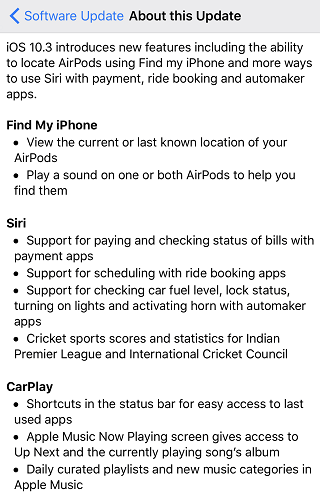 Besides the feature above, the new iOS also brings with changes in the file system, a new Apple File System: APFS, which is not compatible with the current iPhone file system, aka HFS+. Though you may not get stuck on the iOS upgrade, it is not beyond the bounds of possibility that something can go wrong, which means you may lose your iPhone data, including contacts, messages, photos, videos, etc. So it is pretty vital to backup iPhone before iOS 10.3 upgrade.
Top 3 Ways to Backup iPhone before Upgrading to iOS 10.3
There are top 3 ways for you to backup iPhone data: PC solution, iTunes and iCloud. And you can choose the one you prefer to backup your iPhone contacts, photos, music and more before upgrading to iOS 10.3.
Way 1. Backup iPhone on Windows PC before iOS 10.3 Upgrade
If you want to select specific data on your iPhone to perform the backup, it is better to apply the PC solution. With a Windows PC and a professional iOS file manager, iOSToto, you can backup all your precious data on iPhone within easy steps. iOSToto allows you to manage files on the iOS device and pack the important contacts, messages, music, photos, apps, etc. to a safe folder so that you can easily recover the data as long as you connect your iPhone to the computer.
Click the button above to get this iOS file manager directly and backup your personal data on your iPhone right now:
Step 1. Launch iOSToto and connect your iPhone to it. Go to the Toolbox menu and select the Super Backup.
Step 2. In the Super Backup box, choose your iOS device from the drop-down menu and then check the items you want to backup, like contacts, messages, photos, etc. Then click Next.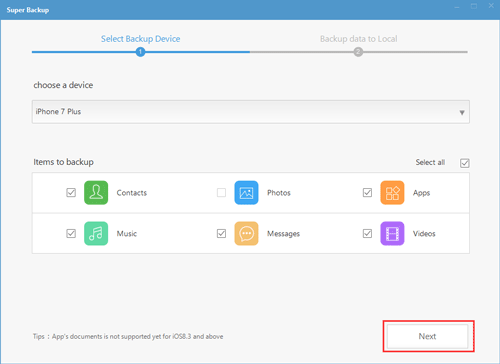 Step 3. Click the Browse on top right corner to select a folder to save the backup file. Then click the Start Backup button. When it finishes, click the button Backup complete to exit.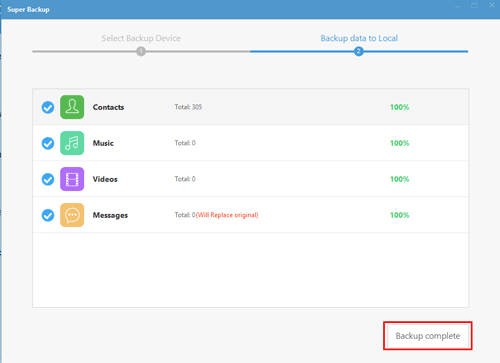 Also, you can go to the Apps, Music, Photos, Videos, Books or Info menu to extract or backup the specific files. Also, it allows you to transfer recover data from iOS to iOS.
Related articles:
Way 2. Backup iPhone data via iTunes before the Upgrade
iTunes is designed as an all-in-one application that allows you to use it as a media player, media library, a radio broadcaster, and a mobile device manager. You can backup your iOS data via iTunes.
Step 1. Connect your iPhone to iTunes and then choose your devices by clicking the icon.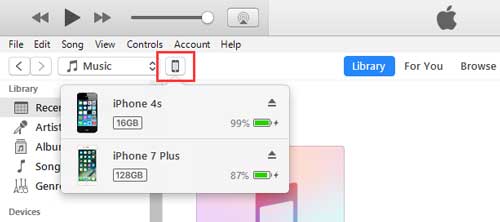 Step 2. On the left side, select the Summary for the Summary screen on the right side.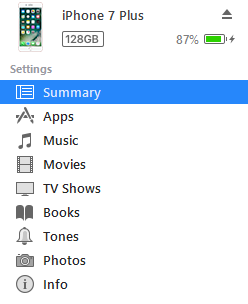 Step 3. Under Backups, click the button Back Up Now to begin the process. If you want your data to be safe, you can apply the Encrypt Backups when it asks your choice. After the settings, iTunes will start backing up your iPhone.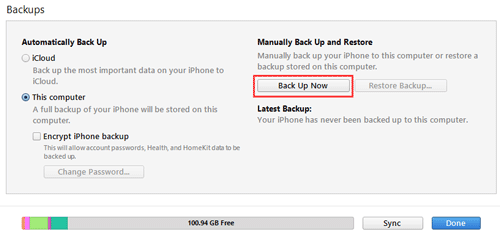 When it completes the process, you can go to the Edit menu for Preferences and view the backup file in Device. Then you can undertake the iOS 10.3 upgrade on your iPhone.
Way 3. Use iCloud to Backup iPhone Data before iOS 10.3 Updating
iCloud is also helpful when you need to backup your iPhone before the upgrading. Every Apple mobile device features iCloud, such as iPhone 4, iPhone 5, iPhone 6s, iPad Mini, iPod Touch, etc., and you can go to the Settings to make your backup.
Step 1. Tap Settings on the iPhone and go the iCloud.

Step 2. Scroll down for Backup and turn it on.

Step 3. When the Start iCloud Backup note pops up, tap OK to begin.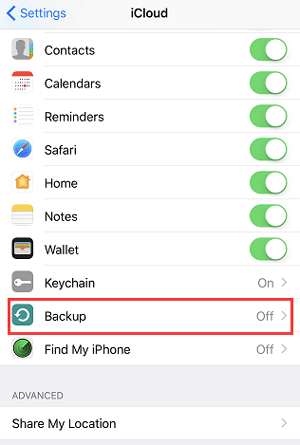 When you finish the iPhone data backup, you can go to the Software Update page on your iPhone and follow the onscreen instructions to upgrade to the latest iOS 10.3. That's it. Hope this post is helpful for you to backup your iPhone 7/7 Plus, iPhone 6s, iPhone 6, iPhone 5s, iPhone 4 or other iOS devices.
These related posts may also interest you:
If you have any question on how to backup iPhone data before upgrading to iOS 10.3 or other iOS versions, you can reach the comment section below and tell us.
RECOMMENDED DOWNLOAD